State Track Meet Preview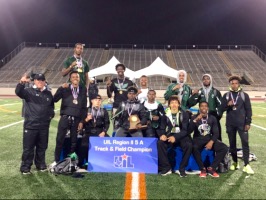 The Lake Ridge Eagle boys and girls track team will be competing in the UIL 5A State Track Championship Thursday and Friday, May 11-12, at Mike A. Myers Stadium in Austin, TX.
The Eagles look forward to competing to the best of their abilities toward reaching the most success that they can, as they have had a very successful season thus far, with the boys winning the Region 2-5A team score, as well as the girls placing third.
Micheal Prewitt, Head Boys Track Coach, is confident with the way his athletes have been performing an the amount of success that has been brought forth. He is looking forward to his team competing to the best of their abilities.
"I was very impressed with the way we performed at the Region meet. Winning the team title is a very big accomplishment and I believe that gave them some confidence heading into the State meet this weekend. My overall goal for them is to just perform to the best of their abilities. I certainly think all our athletes, whether it be individual or relays have a chance of medaling. Overall, I'm looking forward to watching them all perform and seeing all their hard work pays off," Prewitt said.
Zion Smith, junior, heading to state in the 800m run, is blessed to have the opportunity of competing and is ready for the challenge ahead of him.
"The State track meet has the best of the best, and I'm one of them; its a good feeling. Going into state I'm nervous, but ready. All of the guys in my race are all milliseconds in front or behind me, so its anybody race. Its just about who wants it more. I just have to get out there and run my race and at my best," Smith said.
Michelle Womack, Head Girls Track Coach, is very satisfied with the way the girls have done this season, but is looking forward to her girls performing one last time this season at the State meet.
"Our girls have done a great job this year in all the meets leading up to State. We have qualified in 7 events for the girls and are ranked top 3 in state going into the meet. I believe that our athletes are prepared to perform at the best of their abilities. Whate er that may be, I know that I will be proud of our girls for all the handwork they've put in this season, and without a doubt I know we're ready," explained Womack.