On and Off the Mat
Under the bright lights, with big smiles and blasting voices. A cheerleader's greatest role in any high school is to motivate their team and school. However, even Lake Ridge's biggest encouragers, require encouragement.
An important quality for any team to have is unity. Although the Lake Ridge varsity cheer program has undergone a variety of change this season, they remain connected. Co-captain and junior, Makenna Alsup, believes the relationship between the cheerleaders has been their biggest strength.
"I definitely think we bond very well. From the very start of it, we were automatically a team. To be successful is not just about their ability to cheer, but their ability to be a team," said Alsup.
Through the difficulties faced by any team, it is necessary to have a leader who can guide everyone through encouragement. On the Lake Ridge varsity cheer team, this leader is Bailey Alexander. As a senior and varsity captain, Alexander believes a prominent role of any leader is to maintain a positive attitude.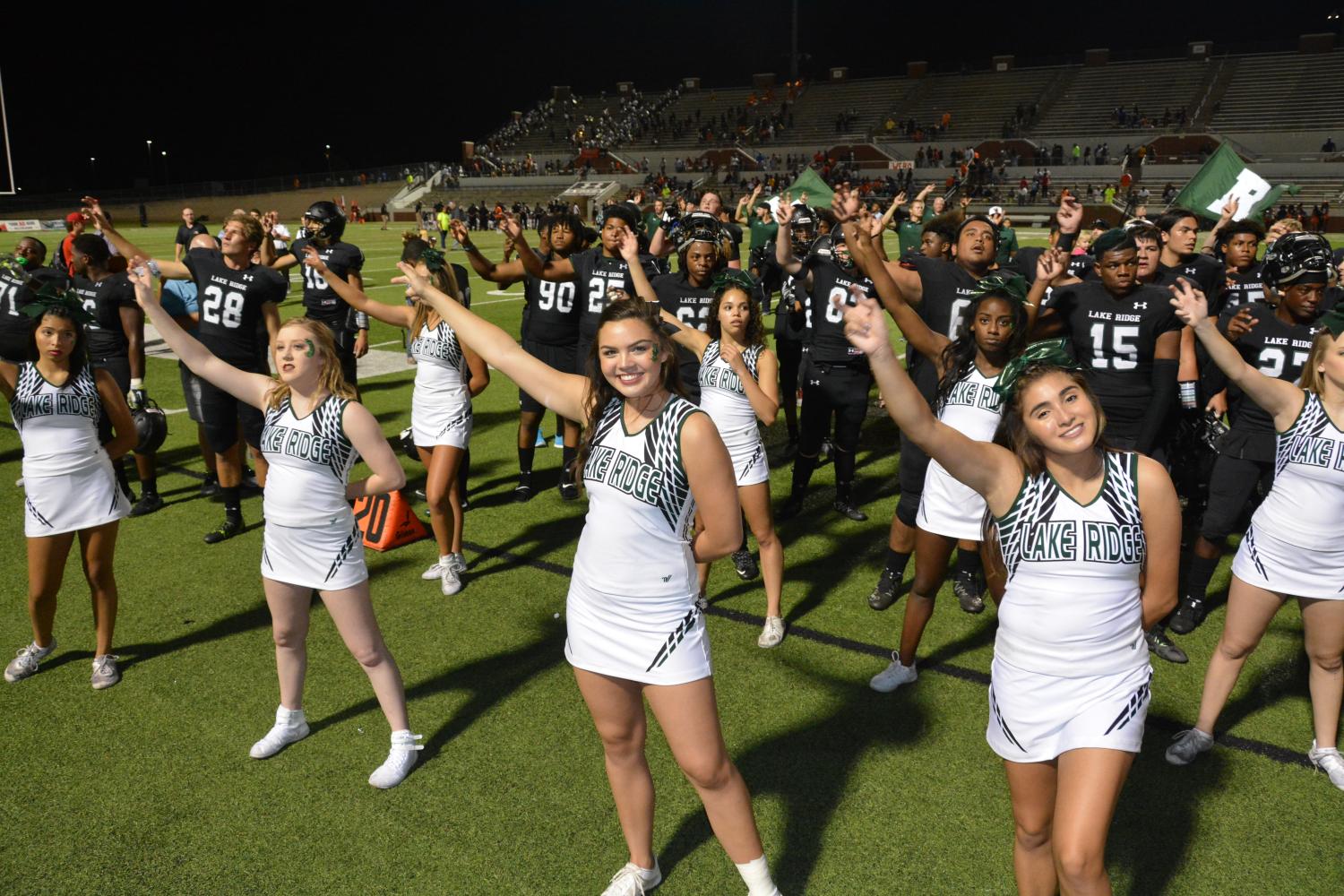 "My role has been to constantly motivate everyone, keep them updated through good communication, and to lead by example in both practices and games," said Alexander.
Varsity coach, Ashley Hicks, has known some of the cheerleaders for all four years of high school; however, some of the girls are meeting her for the first time this season. With a new team and a new position in the Lake Ridge cheer program, she has worked hard to incorporate the ideas of the cheerleaders while keeping things organized. Hicks has continuously remained both patient and willing in order to ensure the team's success.
"As a coach, you have to keep working at stuff. I feel like it's really easy to just say things don't work and to try something else, but you need to just keep working through things, and to not get frustrated when there are times in the year you become overwhelmed," said Hicks.
The selflessness and future-oriented outlook of this team is present in the example of senior, Corrinne Bayless, who hopes to improve the program for the cheerleaders to come. The hard work displayed by the Lake Ridge cheerleaders is not only to make the best of the current year, but to ensure that the ones to follow may be set up for success.
"Since it's my senior year, I want to make it memorable and make sure that my last year is both a successful, and good one. I want to make sure that the people who will come after me have the best experience possible and can be just as passionate about the sport as I am," said Bayless.
From hours of afterschool practices and working to improve each day, to the friendships formed by a strong team-bond, Lake Ridge cheerleading is a program that will face every challenge with their heads high, and their bows higher.