Capri Davis Makes History
Capri Davis braces herself, preparing to spike the ball across the net. The ball flies up, a perfect strike, and she scores. This is a routine for Davis, which is why the sports apparel brand, Under Armor, picked her to attend the annual All-American Volleyball Match. This match consists of 24 of the best female high school volleyball players from all around the country and Davis is the first Mansfield ISD athlete ever to be picked for this honor.
During her four years on the volleyball team, Davis has demonstrated amazing talent, being a part of the starting group each game from freshman to senior year. Not only that, Davis plays six rotations, which means she's on the court all the time. Davis has proven her leadership capabilities and control at the net, while being an inspiration to both the older and newer members of the Lake Ridge Volleyball Team, according to Jessica Tyler, head volleyball coach at Lake Ridge High School.
"Davis has been a leader for us all four years, as well as a four year varsity letterman. This year she's taken it to a whole new level. She's a big leader, motivating person, and she's very dominant. She's very explosive and she commands the net. In other words, she's not anyone I'd ever want to face," said Tyler.
Despite numerous accolades, Davis' entry into the sport started more by chance. According to Davis, when she was young, she simply went to a friend's volleyball practice. However, after a shortage of players on her friend's team, Davis took up the challenge, and discovered a natural affinity for the sport.
"I started playing volleyball in sixth grade. I was sleeping over at one of my friend's houses, and the next day, she had to go to volleyball practice and her dad was the coach for her team. I didn't really have anywhere to go, so I just went with her. They needed somebody to step in to play, so because I was the only extra person there, I just kind of stepped in. They then actually said, 'Hey, you're not actually that bad, Capri.' So, from there I just started playing and I just fell in love with it," said Davis.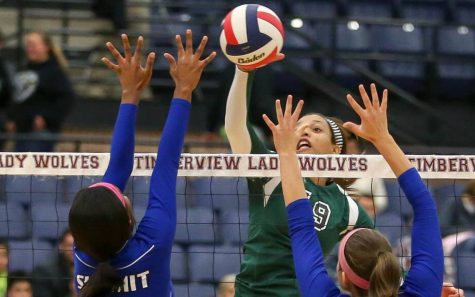 The road to her success was not an easy one.  When Davis first started playing, people would say she looked out of place. She was lanky and lean, and she could not communicate well. But, with effort and dedication, she eventually got to the stage where she became a dominant force out on the court.
"I got a lot of comments that I looked like a deer in headlights. I was tall, skinny, and not very coordinated. So it definitely took a lot of hard work to get to where I am today. Every club season I would come in and work my butt off, and every season I saw myself improve," said Davis.
Davis attributes her success to her parents, simply because of the expense and effort it takes to be the parent of an athlete. Davis says her parent's determination to her future and the hours to weeks of support Davis is one of the big motivators to her success.
"My parents poured almost all their time and money into my life to get me to where I am today. It's very expensive to put me in club every year, and overall it's just a lot of time on their parts. Just them being there for me and encouraging me the whole way helps, because sometimes I come home and it's really hard for them. They don't really get to see what goes on behind the scenes, only what I put out on the court," said Davis.
Now that Davis has been recognized for her talent, she is currently preparing for her big game at the Sprint Center in Kansas City, Missouri. She's been using every practice as a chance to hone her skills for the national match up north.
"Really, I've just been focusing on the things that I'm going to need to carry over. I have to make sure I'm staying focused, because even though the other girls might not be jumping as high or competing at the same level as it may be there, I need to make sure I stay at my best and my highest level so I can perform well," said Davis.
Davis is not only a talented player, but a vital friend and source of encouragement for new and older players. Helena Vasquez, freshman setter, describes Davis as someone who makes volleyball more than just a sport, but a family and a group of people that allow freshmen like her to have a great first year.
"Capri is so much fun. Honestly, she made my first year of volleyball amazing. She has a great personality and an amazing person to be around. She's a really kind person, and she knows when and how to get the job done as well as when to be serious and when to be relaxed. She also has helped me personally, helping me keep myself up when I'm down," said Vasquez.
Though Davis may be a far cry from what she was in 6th grade, she also remembers the feeling of being new to the sport, and the lack of encouragement found often in young athletes. As she encourages her own teammates, she also wants to help more people grow into talented athletes.
"When you first start out, you don't really have a lot of motivation to go forward. But as you continue to practice and every day get a little bit better, you either realize you want to do this and love the sport, or it isn't for you. If you figure that out, you can make it happen. Just always have the mindset of every day is a new day, and a new you. You'll always improve," said Davis.