In It to Win It
The Lake Ridge football team has moved onto the fourth round of the playoffs against a familiar foe, Highland Park. Last year the Scots knocked the Eagles out of the playoffs ending their season. This year the Eagles have revenge on their mind.  Senior linebacker, Jayden Williams, is excited to get another chance at the team that sent them home last year. 
"Playing against Highland Park is exciting, because they obviously are the team that knocked us out this past year. Everyone keeps saying it's just another game, but we know it's not. We're going to attack it like it is, but this is a big turning point for us. We have no other distractions and we're really excited to get a rematch," says Williams.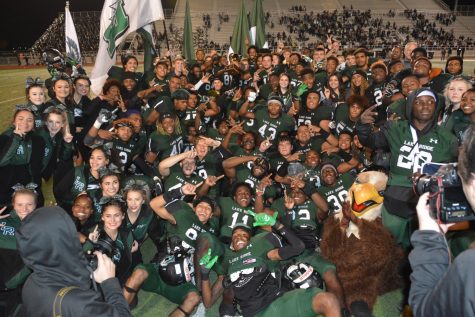 Senior safety, Trejon Hugue feels confident that the Eagles will ride their "1-0" philosophy to a victory tonight against Highland Park. 
"They beat us last year in round three, so our guys are just trying to go out there and play Lake Ridge football they way we play it. We want to take back what we lost last year," says Hugue.
Williams confessed that even though there is a lot of hype leading up to the game, he feels confident after a week of positive practices.
"We were much more focused during practice. Highland Park is a good team, they're four rounds deep for a reason. And so are we, but it's still the reality that there's a mental edge there of them being a really good team. That mental edge helped prepare us and put this game into perspective," says Williams.
Defensive Coach Matthew Allen elaborates on how the team's focus has really been on personal performance and not trying to look too far ahead.
"We haven't talked about how Highland Park has beat us or put us out last year. We just really focused on every day at practice, try to have a great day, and we don't talk about last week or next week, or the week after, we just focus on being your best you everyday. We have a common phrase that says "focus where your feet are," so I think that aids the team a lot," says Allen.
The Lake Ridge Eagles will play the Highland Park Scots this Friday, December 8th, at the Cowboy's AT&T Stadium at 7:30pm.