A Total Team Effort
For some students, sports are a major part of their high school career. At Lake Ridge, over 13 sports are coached and played throughout the year. Among those sports is track and field. Most people automatically assume the sports involves only running, however it also includes events such as the high jump, long jump, shot put, discuss, and poll vault. But behind all these events lies a bond between the athletes.
Like most sports, track and field is separated by junior varsity and varsity. It might be an easy misconception to think that the jv and varsity team don't interact with each other. Yet, you won't find any separation between the teams with as you watch them fly through the air or race around the track. Sophomore, Ian Martinez, thinks their teamwork is what makes their team great.
"We help each other out regardless of what team you're on. It's not really because we have to, but it's because we would want them to help us if we ever needed help. Plus in order to win overall we all have to succeed as one team not in separate sections," said Martinez.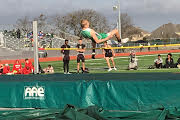 Like football or basketball, track and field involves a lot of practice in order to achieve the athlete's ideal form. These athletes train by working out there legs and even work on breathing techniques for sprinting. Sophomore, Alex Dichret competes in the 800 meter dash and the mile run. Dichret thinks that training and winning is important, but so is having fun.
"I do lots of sprinting and running to train, but I mostly enjoy just being around the people and having fun when competing. I think that no matter if we win or lose as long as we had a good time, that's all that really matters. And if we pick up a win while having some fun, that just makes it better," said Dichret.
With a sport with like track and field, jv and varsity work together to make each other better. Even at meets they support each other. Overall, this improves performance when it comes to competing. The head boys track and field coach, Micheal Prewitt believes their success is due to their dedication.
"The big thing for us is that's our kids are committed. For example even if I'm not gonna finish in the top three they still give points all the way down to sixth place. And they encourage there teammates to score points in different events. Another example is when out sprinters go to a track meet I usually already drop the distance runners and the feild events kids off. When the sprinters get to the meet they're always asking 'how are we doing?' or 'how are the other teams doing?'" said Prewitt.
Most sports require teamwork and Track and Field is no exception. No matter what event the consist of, the track and field team goes about it as one team. Whether its' in the high jump event or the 100-meter dash, the Track and Field team wins as a collective.