Kicking Off Playoffs
Sprinting full speed ahead toward the goal, the opposing team's forward sets her sights in the top right corner of the goal. Freshman goalkeeper, Bella Avitia, steps off her goal line in an attempt to challenge the forward. Avitia rushes out with her arms spread wide and deflects the shot over the top post of the goal. As the District 6A season comes to a close, the Lake Ridge Lady Eagles Soccer team are kicking it into the playoffs hoping to make it all the way to state.
As their first playoff game is less than a week away, feelings of excitement and nervousness fill their thoughts. Nerves creep up as the fear of letting someone down creeps into their minds. Excitement over the possibility for becoming state champs consumes their thoughts. For sophomore and defender, Alexsis Villarreal, feelings of eagerness and anticipation engulf her.
"With this being my first season on Varsity, I'm really excited because I believe that we are going to do really good this year," Villarreal said.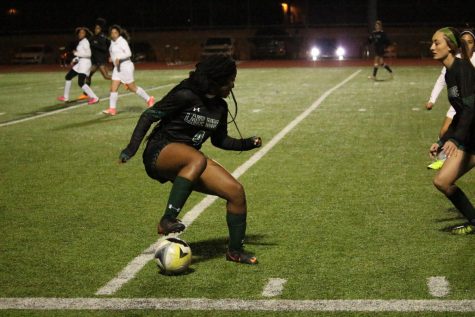 As the Eagles play their final game tonight, they look back on what has been a tremendous season. The ladies scored 83 goals and only allowed 9 goals against them. Credit goes all around the team from having having talented forwards and midfielders who know how to finish their shots, to a strong solid defense. Freshman goalkeeper, Bella Avitia, along with the help of her four defenders in front of her, has managed to have 9 shutouts (games in which no goals were scored against them) throughout the season.
"Our offense is extremely good and are all very talented, but I feel like no one mentions how strong the defense is. The defense is very necessary to how well we have done this season. I'm very grateful they are playing in front of me," said Avitia.
Not only is the team's success accredited to the players and coaches, but the managers and trainers have also had a hand in the team's preparation for the duration of the playoffs. Manager and sophomore, Kylie Day, works during practices to chase after balls that didn't go into the goal and pass with players who don't have a partner. But her most important work comes at game time.
"I try and have good team spirit no matter how we are doing in the game. It encourages them to keep working hard even when things might not being going great during the game," Day said.
All the hard work the Eagles have put in from grueling practices and games during holidays and breaks. From players overcoming injuries to coming home late at night from away games and still having to complete homework. All their efforts come to a head on Thursday as they kickoff round one of the playoffs against W.T. White at Kincaide Stadium in Dallas.