The Run to Regionals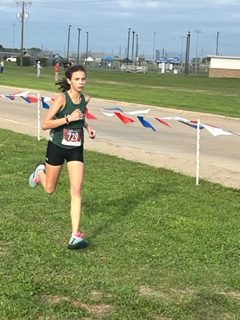 The Lake Ridge Cross Country team will be making their sixth appearance at the regional competition on October 24th after an outstanding performance in the districts. As expectations remain high, with one individual tremendously exceeding everyone's predictions, the runners have all been preparing both mentally and physically to overcome any pressures and put forth another outstanding performance.
One individual, Freshman Michaela Dazey impressed her coaches and fellow teammates after she ran an unusual 19 minutes and 26 seconds to secure second place at the district meet. Dazey's time was just four seconds shy of overtaking the school record, but what makes it even more impressive is that she is only a Freshman. Having such a talented young athlete that is mature is a key part to the future success of the team that Lake Ridge longs for.
Whitney Hays, Assistant Cross Country Coach pointed out Dazey's maturity for a Freshman running at the varsity level and the importance of having an athlete like Dazey to lead such a talented roster.
"Michaela is a Freshman. She is a very smart runner, so you could get somebody that is a Junior or a Senior and be working with them for 2 to 3 to 4 years, but what we see out of her, you usually don't see until they're an upperclassmen. She's a very smart runner. Michaela comes across as being very mature for her age," said Hays.
It can, however, be just as overwhelming as it is impressive being a young athlete and finishing 4 seconds shy of the school record at the districts. This is because your peers and the entire community as a whole may have the highest expectations for you to succeed in future events. Oftentimes, an athlete may perform worse or notably lower than the expectations set after being perceived as the "best."
However, for Michaela, she hopes that her success at the district meet will be able to translate over into the regional meet. Not only has she been appreciative of the opportunity and the moment, but she is also grateful for her teammates and coaches, who provide the highest level of support and encouragement. She also recalls her recent success at the district meet and how she is dealing with the pressure as she prepares for the regional competition.
"Going through my last stretch was very intense cause I knew I was behind a senior, I couldn't slow down because there were girls right behind me trying to fight for second place. My teammates- they have supported me by just cheering me on and encouraging me to keep pushing myself. And for them, I try to do the same and not let other competitors stop them from running their best. Sometimes, I can feel overwhelmed because everyone expects you to always run faster and be the best runner, but I just keep staying mentally strong and push through it," said Dazey.
Despite only one boy qualifying for the regional meet, the Girls Cross Country Team finished 2nd in the district meet, punching their tickets to the regional meet on October 24th. This is the first time the Lake Ridge Cross Country team has advanced to the regionals since the 2018-2019 school year. However, the journey the girls team endured wasn't all smooth before their success. Hays, once again points out the adversity and uncertainty that the girls team endured before performing at the district level meet.
"The girls' story is actually cool because before the meet, all these other schools are sitting around our head coach, and they're all talking about like, 'Oh yeah, we'll get first. This team will get second and we're fine with third.' So, that was really cool to watch because we knew when they were crossing, we were getting places, so we knew before things were posted that we were in a battle for third then when we got second, we were shocked," said Hays. "But, I really, really love getting to coach the kids that we coach this year. Especially our girls team – it was fun to watch them shock people this year," said Hays.
Although the team was doubted at first, they have exceeded most people's expectations and the goals they set. However, this can make it rather difficult since more pressure will be on the runners as the bar has risen. It's very important that the coaches and athletes all work together in order to prepare each and every one of the runners for this upcoming event. Knowing not to over-work the athletes, yet still maintaining their best potential can be rather difficult to interpret. Mentally and physically, however, the athletes are all taking necessary preparations to ensure that they are in the best possible condition when the time of the competition arrives. The only Boy who qualified for regionals, Sophomore Logan Clark, is proud of himself for qualifying while knowing that he could do better. 
"We haven't had a male qualifier in a good amount of years. I was definitely happy with my time, but I know I can do way better. As far as preparations, we're just taking all precautions necessary, we still have daily practices, we're tapering down currently which means we're keeping our intensity high but decreasing our mileage to stay fit and healthy for the meet. No matter the outcome, I'll be happy because it's a longer season for me, I've never made it this far, and I am just really psyched that I was able to go here. We're all really hoping to go to the state meet and if we do, that'd be nice," said Clark.
This upcoming regional competition held on October 24th is vital as the runners are looking forward to breaking their previous times at the districts as well as experiencing the chance to go to state, in what would be a glimpse of the future success of the Lake Ridge Cross Country. "Lake Ridge," said Dazey, "is definitely one to reckon with."