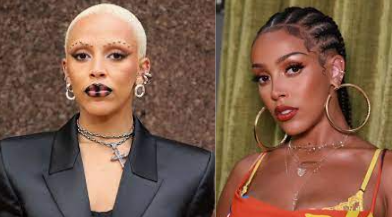 American R&B rapper, songwriter, and record producer Amala Zandile started her music career in 2012. In 2018, some of her songs went viral as a result of social media. Gradually, her fame expanded, and she became a well-known celebrity in the U.S. Not only is her name distinctive but her music style as well. Her creativity comes from mixing various genres and sounds in songs.
In March of 2018, she released the AMALA album, which was a stepping stone to her fame in the music industry. Her free-minded and childlike behavior in that album attracted several people's attention. World Geography teacher Jordan Brimberry explains how one of the songs in that album stood out to her.
"The song called "MOOO!" captured my attention and then after that, I would say "SAY SO" from TikTok. I think "MOOO!" is just a funny song. She talks about cows and things like that. I think it's a little childish but also very funny," Brimberry said. "Her style of rapping in that song was what initially captured my attention. Listening to her talk about how she wrote the song in a day and then putting the music video together in one weekend was also pretty cool." 
Most music written by various artists usually has a meaning behind it. Depending on the situation that happened before or during that time, they use that to compose a song. Cat's song has a peculiar way of motivating people to get the job done. Officer Robert describes some kind of inspiring aura she gets from listening to Cat's song.
"A lot of her songs express her unique persona. For me, she's always been relatable," Robert said. "Her songs are either about women empowerment, uplifting, or just a beat that you can move to. It's also a song you could listen to when doing your chores."
Lately, there have been some new developments in her appearance such as a barbed head and eyebrow. These changes have been noticed by a lot of people, specifically her fans.  The sudden transformation has left most people speechless and curious as to what resulted in this. People like Junior Cydnee Fetalsana state her sudden reaction toward the recent change.
"This year she had this sudden change that was new to her fans like me. Like when she shaved her head, I had no idea why she shaved her head. I assumed maybe she wanted to show her natural beauty by doing that, " Fetalsana said "Then she razored her entire eyebrow, which left me speechless. Recently her new songs gave her this description as the devil's assistant because of how "dark" she is turning into."
Like the change in appearance, there have also been changes in music style. The famous artist has switched from being a cheerful and mindful character to a nonchalant and gloomy person. Roberts clarifies how her recent change in songs goes against her religious beliefs.
"I am not a fan of those new songs even though it's catchy. As a Christian, when songs idolize different things in the Bible that are not good and don't speak the truth, I think you're singing things that praise something that's idolizing the devil and Satanism," Robert said.
While some fans are agitated by how "demonic" her new songs are due to how it goes against their religious beliefs, others don't mind at all. Brimberry doesn't see a problem in the making of the music as it's Cat's decision.
"I see why people might be mad about that, but to me, it's like if that's what you want to go with, if that's what you decided to do for a music video, that's fine," Brimberry said. "That's her choice and her opinion and it doesn't bother me and it doesn't affect me. I don't have like a true opinion about it because it doesn't affect me very much."
People suspect that Doja's new album "SCARLET" might not have as many views as her previous albums. One of her albums, "PLANET HER," had about 5.4 billion streams, but as of right now, the new album might not reach up to half of the past streams. Fetalsana gives some details as to why her new album might not make a hit this year.
"I think it's going to reduce.  Everyone's going to judge her because of that "DEMON" song. Religious people like me are probably going to stop listening to her music," Fetalsana. "It might be hard to stop because most of her songs are catchy, but I would have to stop it since it goes against all Christian teachings."
The artist's bubbly spirit, together with social media and precious music talent, aided in the construction of her fame. As of right now, there has been an unexpected shift from the Doja Cat of 2018 to the Doja Cat of 2023. The new look has left a lot of her fans dumbstruck. However, one of her new songs has ignited some irks towards her, as it went overboard in terms of heavenly faith. This might also be an issue as it might decrease the number of streams she would get on her new album that is coming out on the 22nd of this month.