The Birthday Party Project
Many of us grow up with the privilege of getting to celebrate our birthdays with the people we love. Every year they come and go with bliss and joy. Not often do we stop and think about what a birthday means and how blessed we are to have the resources to celebrate it.
According to a 2014 article by NBC news, 2.5 million children in the United States are homeless. These kids have barely enough food as it is and when their birthdays come around there is no spare money for a cake, let alone a birthday party. After realizing these depressing statistics, Paige Chenault realized she was meant to make a change.
"A fire lit inside of me, truly a burning feeling in my stomach, and a voice that reassured me I had found my purpose in life. I was going to celebrate the lives of children that needed it most. I was going to throw birthdays for homeless children," explained Chenault to Glamour magazine.
After realizing her calling, Chenault started the Birthday Party Project in 2012. Chenault and her team of 6, along with many volunteers,partner with organizations all over the United States to create the perfect birthday party for children. The team and volunteers travel to a partnering homeless shelter in order to give the kids a party they deserve.
One organization that The Birthday Party Project works with is Family Gateway. Their goal is to end poverty in the Dallas area by working with homeless families and children. One way they help these people is by partnering with The Project. Kendall Molsberry, Brand & Marketing Manager at Family Gateway, explains what exactly occurs at the parties.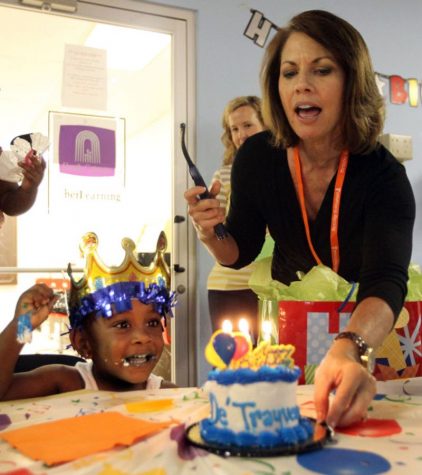 "The third Thursday of every month, a group of volunteers from the Birthday Party Project come to our shelter downtown and bring everything needed to throw an awesome party for our kids. Each party has a different theme – February was a giant dance party with a DJ and glow lights. Other months include things like a petting zoo, a holiday party, cookie decorating, Bingo, etc. Pizza is served at 6, and the party starts at 7. At the end of the party, we sing happy birthday to that month's kids. They get their own cake from Nothing Bundt Cakes and an age-appropriate present," said Molsberry.
Many people don't realize these kids have never gotten the chance to feel special and loved on their birthday.
"We celebrated one of our little girls back in December who was turning 5. She had never had a real birthday party or any sort of birthday celebration before. She was so excited all month leading up to the party and when it was finally time for the party she exclaimed, "It's my birthday party!" She had the time of her life. Without the Birthday Party Project, most children affected by homelessness wouldn't get the chance to celebrate a birthday. That's what makes it so special. There is so much joy at those parties," remembered Molsberry.
Family Gateway isnt the only place that's been touched by TBPP, Safe Haven Fort Worth an organization that helps with domestic violence has also experienced the joy of one of these birthday parties. They often partner with TBPP in order to bring joy to the people under their care.
"When I asked around the office for a fun story or volunteer project to highlight this week, several coworkers recommended the Birthday Party Project without hesitation and a big smile. Within minutes, my inbox was inundated with stories, special memories, photos, and overwhelming thanks for this non-profit that volunteers at our emergency shelters. In just a few hours every month, this organization brings joy and magic to a child, and the impression they leave on our staff, volunteers, and clients is one of a kind," said Keeli McNair, one of the staff member at Safe Haven.
The kids served by The Birthday Party Project come from all different back grounds. They aren't always fortunate enough to get that perfect birthday party, with the the perfect theme and the perfect cake. However for the the people with TBPP, none of that matters. All that matters is those kids know that they are special and worth throwing a birthday party for.
"All you have to do is love on these kids. Just encourage them and be excited with them but take advantage of the moment because they are special and unique and you never know when you have the opportunity to plant the seed with a lasting."
With this statement, the party begins. As you watch the video on thebump.com you can see the impact left on the kids.
We might see a birthday party as simple but for these kids it's far from simple. For them, the parties from The Birthday Party Project means a light shining through dark times.