Johnson's Journey
Brandon Johnson is a man of passion, determination, and a desire to exceed social norms. These are a few of the qualities that earned him the job as Lake Ridge's newest principal. 
Johnson did not begin his professional career with aspirations of becoming a principal. Instead the idea was suggested to him by his boss at the time. 
"I was an athletic coordinator, teacher, and coach. The middle of my third year, I had a principal that pushed me to pursue my masters degree and talked about the impact I could have on a larger amount of students. I took that advice and went back to school, then became an AP. I have been the principal for the last two and a half years in Burleson, TX and now I'm here," said Johnson.
Johnson, who played football at TCU, has always felt an impact by the students' sense of voice. As he settles into the Lake Ridge nest, he looks forward to seeing first hand what the students here can do with their own individual voices.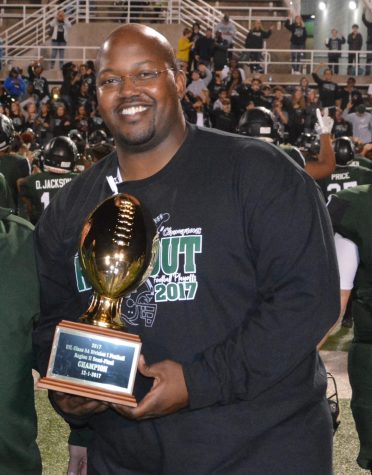 "When you give students a voice, they can do some amazing things and surprise you with what they come up with, and I'm learning that here at Lake Ridge. It's clear that students have a voice here and they aren't afraid to use it, which I think is fantastic. I think I'm going to continue to be amazed at what kids can do when you give them the chance," Johnson said.

Johnson was excited to come to Lake Ridge citing its reputation throughout the area. 
"There are certain positions that come up and sometimes they come open and it's a surprise that such a great opportunity is in front of you. Lake Ridge was that opportunity for me. I chose Lake Ridge because of the level of excellence, everything I heard from the community, and other educators that are involved," said Johnson.
Johnson feels joy at the response he has received from the students he's encountered.
"There's an overwhelming number of students who are genuinely happy to see me. I don't take myself too seriously so I'm surprised that somebody wants to meet me. The position of principal can sometimes be intimidating. Some people call you the boss and some people know you make a lot of critical decisions when it comes to the school. But I'm happy that the students feel comfortable to come up and introduce themselves and tell me 'Welcome,'" said Johnson.
Junior, Nick Horton, was one of those students. He first approached Johnson on his first day at Lake Ridge to say hello. Initially Horton felt a little intimidated by Johnson, but now considers him to be very approachable. 
"He is very nice and well-rounded. He has a fresh mind, I think he'll see problems and he won't just brush by them, he'll make changes to the school. He is intimidating when you see him but once you get to know him or you've had a conversation with him he's easy to be around," said Horton.
While Johnson does want to make his own impact, he is also aware and respectful of the already established traditions here at school.
"So far in my role here, my biggest challenge is learning the Lake Ridge way. I want to learn that way and see what I can contribute to make it even better," Johnson said.
First Sergeant Sedric Wade, Lake Ridge's Senior Army Instructor, was one of the few teachers chosen to evaluate the new principal during the interviewing process. Wade was quite impressed with Johnson very early on.
"He had a positive attitude, a passion for education and the students. Every organization needs that person that is responsible and I think it's going to be a positive situation with Mr. Johnson here," said Wade.
Johnson wants people to know that he is here to connect with the students and help them meet all their goals. 
"I'm very approachable and supportive and I look forward to getting to know all the students here, as well as seeing how it is I can help them achieve success," said Johnson.