Kristi Canon: Triangulating Texas
More than 30 students listen intently to Kristi Canon's instructions as the fragrant small of Scentsy Air Freshener fills room E-131. Other classes in the school are being lectured about monotonous classroom procedures and traditional first-day-of-school rhetoric, but Canon's Photojournalism class is already jumping head-first into the school year. Canon, who has taught at two other schools, Dubiski Career High School and Rockport Fulton Middle School, prior to Lake Ridge, has been through more than her fair share of school days, but still seems to make each one different.
Canon grew up in Mansfield's neighboring city of Grand Prairie, only miles away from the school she would, in time, teach at as an adult. While she didn't know she would become a teacher in the future, she prepared for her eventual career by simulating a classroom setting in her bedroom and teaching her pupils, her stuffed giraffes and teddy bears, how to add, subtract and to read.
"When I grew up in Grand Prairie, I used to play with my stuffed animals and act like I'm a teacher. When I told my mom I wanted to be a teacher, she just said that I need to get a degree in something that I want to do, anything other than education. Because you can always get into education, but someone who's been a teacher all their life can't be anything but a teacher," said Canon.
Heeding her mother's advice, Canon went off to Texas A&M to study business. She described the atmosphere as a close-knit community on campus, bonded together by school spirit and history which still remains after the test of time. Canon still stays in contact with her colleagues from her time as an Aggie.
"A&M is a fantastic school, and they kind of have a saying that you can't understand it's culture if you're not a part of it. In football games and other events you can really feel so much togetherness and community. There is so much rich history there, and the people you go to school with there stay with you for the rest of your life. It's almost like a network, if you've ever seen people wearing these 'Aggie Rings,' you immediately have a connection with that person even if you didn't know them during college," said Canon.
Canon didn't have to wait long to find a job, however, because Dell swiftly hired her after college. Working in Dell's finances, Canon quickly learned the ins and outs of corporate maneuvering, capitalism, and how to make a deal.
"At Dell I started off as a Financial Analyst, which means I took a look at their numbers and balance sheets as well as analyzing any data. Afterwords, I moved up into pricing, which was where we would look at market interests and figure out how much we can sell our products for, and then I became the pricing manager for Dell's Commercial Finance Group. There, I would work with large corporations like Ford and Pepsi to sell them computers and other Dell products," said Canon.
Despite her success in corporate America, Canon wasn't happy with her career. Sure, the pay was good and she worked for a notable company such as Dell, but the job lacked the type of fulfillment she needed in her life. Canon looked back fondly on her childhood in Grand Prairie, playing school with her toys as well as remembering the type of impact her teachers had on her life and how they molded her into who she is today. She didn't just want to be a cog in an industrial machine; she wanted to make an impact. Canon wanted to change someone's life for the better by educating them on how to succeed.
"I really loved working at Dell and I felt comfortable there, but I still felt like I could do something more satisfying with my life than balancing books. I had always wanted to be a teacher, and I felt like I might as well give it a shot, even though it was a huge pay cut. You'll hear a lot of teachers say they're not in it for the money, and that's definitely true. There is no other reason to teach except for a calling, and I felt called to teach," said Canon.
Canon looked south to Rockport near Houston, Texas, and decided that was where she wanted to begin her career in education. She packed up her belongings and headed down over to the Bayou City. Canon, being a foreigner in a whole other part of Texas, didn't have many connections or friendships there. However, she managed to build a lifelong connection with her former pupils and some of her previous coworkers from Aransas County.
"I worked at Rockport Fulton Middle School, and there I began to teach yearbook and journalism. I'm actually very close to several of my former students there and keep in touch on Facebook and such. Some of my former yearbook students that graduated from UTA also sometimes stay at our house when they come visit for a football game, so we usually get to see them about once a year," said Canon.
Her deep connections with people in Rockport came into play after Hurricane Harvey wrecked the Texas coast. Canon rushed to find out if her friends on the coast were okay.
"When the Hurricane hit last year, I was panicking. My husband and I were watching the news all night long and trying to call or text my former students and coworkers, just attempting to get a hold of somebody. Luckily, nobody I knew got hurt in the hurricane, but the emotional impact is still there," said Canon.
As Canon became comfortable down in Rockport, she began to spread her wings and flex her teaching muscles. She felt that she was needed elsewhere in the state, and that's when she found Dubiski High School in her home town of Grand Prairie. Excited to meet new people as well as get reacquainted with old friends, she moved back to the DFW area.
"After Rockport I moved over to Dubiski, where I worked for 9 years. Dubiski was actually a Career High School, but I built even deeper relationships with them than in Rockport, which made it really hard to leave. Kids there were very focused on the future, and were so dedicated to themselves and their studies that they seemed like adults. While they didn't have a whole lot of school spirit, because they didn't have sports or any extracurricular activities, it was still a special place to me, in it's own way," said Canon.
After nearly a decade of working at Dubiski Career High School, Canon found a job opening at Lake Ridge as a Photojournalism teacher. While she didn't exactly want to leave Dubiski, she still felt that moving over to Lake Ridge would be the right decision.
"I loved Dubiski, but I felt like I needed a change of pace. More school spirit and more of a classic high school feeling. While it was great that I was surrounded by kids that were so dedicated, it felt more like a small college than a high school. So, when I found the opening at Lake Ridge, I jumped at the opportunity." said Canon.
So, after traveling across the state and back, Canon landed at Lake Ridge High School. The experienced teacher has lived under a certain philosophy that teachers are not just people who throw worksheets at students or hand out dress codes first thing in the morning. Canon maintains that teachers also have the responsibility to care for students at a completely different level, building a positive relationship with them that can last a lifetime and positively influence every pupil's life. So, when faced with the stereotype of "just another high school teacher," she simply proves it wrong at every turn.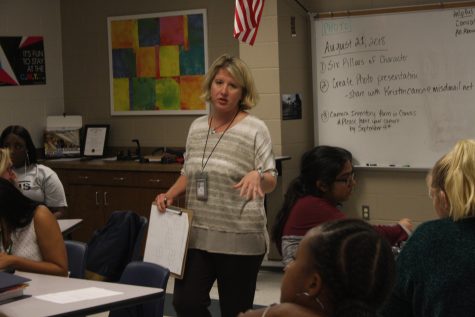 "While there are some who just go through the motions of the day, the real teachers are those who engage their students," Canon said. "Teachers need to treat their students like family, not cattle. We can't just do a job and go home to a normal life because teaching is who we are. It's what we were made for, and it's in our blood."