Mansfield Hosts Toys for Tots
The season of giving is here and that means you can do something to help children in need by donating a toy to Toys for Tots. Toys for Tots is a program started in 1947 and run by the United States Marine Corps Reserve which distributes toys to children whose parents cannot afford to buy them gifts for Christmas.
On Wednesday, Dec. 7, MISD students and parents, along with Mansfield residents, police officers, and U.S. Marines and Veterans gathered at the MISD Performing Arts Center for the 5th annual Toys for Tots Toy Drive.
Sponsored by Fox 4 News, Sports Broadcaster, Mike Doocy, looks forward to the event in Mansfield every year.
"It's such an impressive thing they do in Mansfield, " Doocy explained in an ENN exclusive interview. "The generosity of North Texans makes the holidays even more special. I hear stories of high school students spending their own money on toys to bring for these children. It makes it bigger.  There is no bigger night for Toys for Tots than here in Mansfield."
Dr. Vonda Nunley, Lake Ridge Principal, recognizes that despite all the fun activities planned, this night is about something much more important.
"It's not just about coming and riding the rides and playing the games and seeing Santa. It's about giving back to the community," said Nunley.
Lake Ridge High School, as well as other Mansfield schools, continue the annual program by competing against each other to see which school can bring in the most number of toys. This year Lake Ridge won the competition by donating over 4,000 toys to remain undefeated in the district.
Palmer Holmquist, senior and Student Council member, plays a vital role by encouraging students to bring in toys.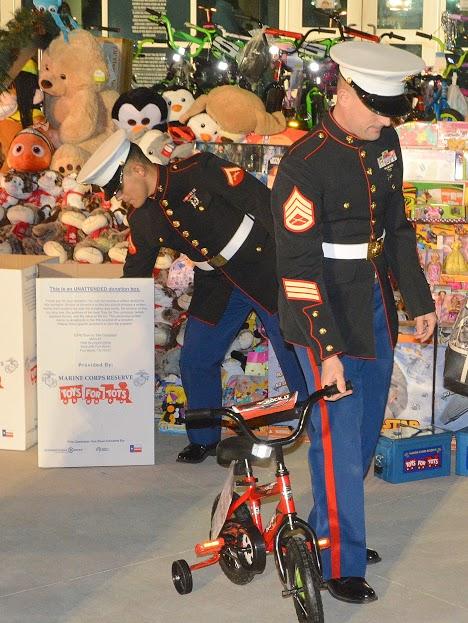 "We have dress up days and scream in the halls to catch students' attention. Not only do we want to reach our goal by collecting 2,000 toys, but do what we can to put a smile on children's' faces on Christmas Dat," said Holmquist.
Natasha Stewart, Associate Principal, not only wants Lake Ridge to win the competition but more importantly, wants to give each family in need a better Christmas.
"Any type of giving is a blessing to help kids enjoy the holiday and release stress from the parents that could not afford the gifts," said Stewart.
The U.S. Marine Corps as well as Veterans have witnessed the growth and success of the Toy Drive throughout the years as more and more people donate toys.
"This event will keep growing and growing and that's the whole point, to give back to those that cannot afford gifts for their children," said Charles Harnold of the U.S. Marines and World War II Veteran.
By MISD coming together as a whole and gathering thousands of toys for the program, Toys for Tots will be there to make sure each child wakes up happy on Christmas morning.
The Mansfield Toys for Tots drive had a record breaking 31,000 toys donated. The evening culminated with the annual mascot race which was won by our own Lake Ridge Eagle!