Lake Ridge Ends Beak Week on a High Note
To raise money for Beak Week, student council put together a talent show for students at Lake Ridge to showcase their many talents, whether it is singing, dancing, poetry, or even lip syncing. The students had to sign up weeks in advance and then work hard to prepare their best performance to show the audience, and hopefully leave an impression. For some it was a sentimental experience and for others it was more of a fun one.
Music is a form of artistic expression that can be used to express your feelings, whether they be about experiences you've had or about a cause you believe in and support. Sophomores Brittany Wolfe and Alyssa Ackerman performed a duet together,with Brittany also playing the guitar, in hopes of raising awareness for the people who fight for us every day.
"I chose the song 'Traveling Soldier' because a lot of our soldiers don't seem to get enough credit for what they do for our country. Even though I was nervous and I laughed when I messed up, it made me feel really good since I was able to get the message across," Wolfe said.
Like Wolfe and Ackerman, junior Jada Adams performed a song that she put a lot of thought into. Singing is something the Lake Ridge choir member has been involved with for as long as she can remember and is very passionate about. With a lot of experience and knowledge about composing and performing, Adams wrote her own original song, not named yet, in 2 days, and Lichelle Culler and Christiana Gentry were her backup singers.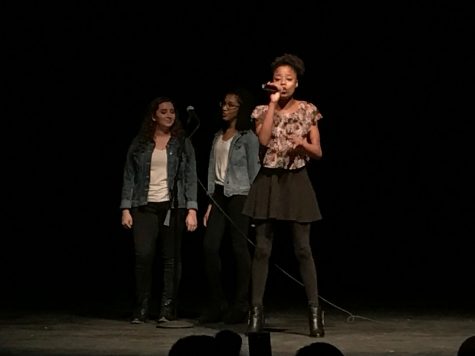 "They are both amazing and really sweet and did it last minute. We just came up with some background notes and hopped to it," Adams said.
Adams wants to be a performer after high school, so singing an original at the talent show gave her great experience for the debut of her song.
"I was really happy to perform the very first song I've written. It was the first time I've performed in front of an audience so it was really nice and thrilling," Adams said.
Although music is a popular and fun way to express yourself, dancing can provide the same outlet for someone's creativity. Senior Stanaisha Richardson and junior Sydney Simmons performed a dance routine they had worked on together to the song 'Rise Up'.
"It took about two days to come up with and then we practiced for about a week," Richardson said.
The dancers are best friends and were happy to have been able to share such a special moment with each other.
"She's like my little sister, and it was such an amazing experience that I can't really describe. I'm glad I was able to share it with her," Richardson said.
"We have good chemistry together and hang out all the time, so when we got up on stage it was natural for us to come together and bond and share something we have in common since we both love dancing," Simmons said.
Talents have the power to raise awareness for a cause that you strongly believe in, express your individuality and what makes you unique, and allow you to strengthen relationships with those you love.