P.S. I Still Love You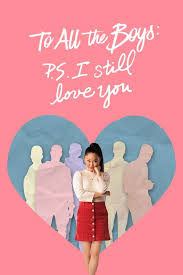 From a fake relationship to a relationship that never felt more real. "To All The Boys I've Loved Before" is an American teen romance book trilogy that was made into reality by the hands of Netflix. Released on August 17th, 2018, To All The Boys I've Loved Before is a deep insight in Lara Jean Covey's head as her letters to all of her crushes get mailed after years since writing them. It taps into a fake relationship that was rooted for the purpose of jealousy between Lara Jean and Peter Kavinsky, who is one of the letter recipients that caught actual feelings.
With an acclaimed rating of ninety-seven percent from Rotten Tomatoes, the movie earned themselves a sequel, To All The Boys I've Loved Before, P.S. I Love You. The sequel is a deeper look into the honeymoon stage of Covey's and Kavinsky's relationship that soon turns into a nightmare when one of the five letter recipients, John Ambrose McClaren, mails a letter back to Covey. It deals with decision-making, heartbreak, and the feeling of true love. Since its release on February 12th, 2020, the movie has received critiques and comparisons to its predecessor.
Much like the first film, the predecessor carries a continuous coming of age theme. With teenage love, untimely family death, and inconvenient desire, the movie deals with themes and challenges that teens nowadays have to face. Teens in high school possess relatable struggles, such as, sophomore, Kami Chaddick who finds a piece of herself in the movie.
"Just like Lara Jean, I have always been a fanatic for those romantic aspects in life. I love to talk about it, read about it, and think about it. So, to see Lara Jean get the guy and Peter get the girl feels like I was living vicariously through her eyes. I relate to Lara Jean so much and the movie is relatable as a whole," said Chaddick.
In comparison to the published books, Lara Jean is a half-white, half-korean teenage girl whose mother died whenever she was younger. Leaving the family in the hands of her dad, her older sister Margot, and younger sister Kitty. In the movies, most of the cast is from asian descent, including : Lana Condor, Janel Parrish, Anna Cathcart, and the author herself, Jenny Han. Being from an asian family, sophomore, Ishi Jacinto, adores the representation of her culture in the movies.
"I believe it's really amazing that there is an asian woman as the female lead of the whole movie, let alone most of the cast. It's very important, because most of the time, people like me are stereotyped in movies to be the smart, logical characters. So when I saw Lara Jean as an asian woman, it was a nice change of pace," said Jacinto.
In a similar movie series, such as Twilight, there is an audience dispute on who the main role should end up in a relationship with. In the movie, Lara Jean has to decide between her current lover, Peter Kavinsky or her past crush, John Ambrose McClaren. Though both men have their aspects that fans attract to, there is still a conversation flying in the air on whether Lara Jean should be with Peter Kavinsky or not. For, sophomore, Madison Martinez, her opinion stays the same since the first film
"I think Lara Jean was really cute with John Ambrose in this movie and they had their scenes together, but I think she belongs with Peter Kavinsky. Their bond and chemistry is unreal and they're just meant for each other," said Martinez.
From breaking each others' hearts into a thousand pieces to walking into the sunset on a field, "To All The Boys I've Loved Before, P.S. I Still Love You" is a romantic sequel that captures more romantic spots than the first movie, raising the trilogy to higher critiques.