Experiencing a High School Glow Up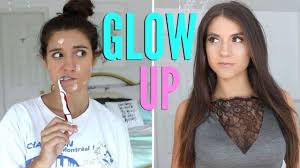 High school "glow ups" are known as a person becoming more attractive through their high school years compared to their childhood. Students also go through many other internal changes throughout their high school experience beyond what is seen on the surface. These changes can be for better or worse, and many students learn more about themselves while reflecting back on their high school experiences.
Lexi Kern, sophomore, was a timid freshman and felt she sought verification from those around her. Since developing a sturdier mindset, she has learned how to love herself and be more confident in her own identity.
"The biggest change I have seen from myself from freshman year till now is my mindset. At the beginning of freshman year I had a lack of self-love and confidence, I used to look for it in the confirmation of others but now I look for it from within myself, God, and universal energy. The changes I hope to make going forward are to keep loving myself and focus on my well-being," Kern said.
All the various personality types, trends, and social norms to follow can make high school a hard place to stand out. Noah Siohna, sophomore, says that he became more confident in himself overtime and has the ability to be his own person despite other people's opinions.
"This year I started to care less about other people, and more about me. I realized the only person's happiness that truly matters at the end of the day is my own. In the future, I plan on being the best me possible by continuing to get more confident in myself," Siohna said.
Throughout high school, students may also transition from their childish ways into a more mature personality. This comes with maturity and experience. Junior, Jalen Harrison, noticed that those who surrounded him had a lasting effect on his transition from his freshman year to now.
"I have a really chill personality now whereas in the beginning of freshman year I was really goofy and obnoxious. The people who I hang around with really influenced me to change my personality and become the way I am now," Harrison said.
High school can be a really hard time for students because most students can't help but compare themselves to other people whether it be physically or academically. Sophomore, Madison Martinez, has been overcoming this struggle this year.
"I've been learning how to love myself for everything I am, and finding happiness within myself. My environment, school, my home, my family, my friends, etcetera has really helped me overcome these internal struggles. In the future, I hope to become more positive and have more motivation and I hope these lessons I am learning in high school stay with me for the rest of my life," Martinez said.
While high school is seen as a glamorous and easy time period in movies, it isn't like that for most people in reality. People change physically, mentally, and emotionally too, which makes facing some sort of change throughout high school inevitable.