Writing With The Past
With a watchful eye, Creative Writing Teacher, George Olsen, has served as a mentor to keenful students, to help navigate them upon the twisty path that is creative writing. Yet, the journey which led him to writing was, to say, at the very least,–complex–because he did not pursue the nature of literature until later on in his life. Carrying vast amounts of experience, Olsen traces back to what, in essence, led him to where he is today.
"My previous careers really revolved around skill sets that I developed from my working experience. Those skills revolved around being a good speaker, having skills in recreational sales, and having a lot of creative pursuits. The techniques I learned while being in the hotel business, for example, helped me have the confidence to stand up in front of people and sell them something. It seems like a natural fit for me to stand up in front of students and sell them on something I really do believe in, that will be a great benefit to them, which is education," said Olsen.
Skill sets, a person's range of abilities, are usually acquired through great diligence and undeniable work. Olsen delves into adeptness by describing how it changed him for the better.
"Skill sets are all about failing, and then learning from our mistakes. Probably the most important skill I had to learn was a sense of humility, because I was so full of myself that it got in the way. My life was wrapped up in ego, rather than purpose, and my writing was affected because of it. As I got older and my ego became less important, my purpose was truly able to emerge. Therefore, I feel some kind of satisfaction with my work, my family, and my friends now that it has simmered down a bit," stated Olsen.
Born in San Angelo, Texas, but raised in the booming New York City, Olsen harbored a deep love for athletics. However, due to unfortunate circumstances, he was forced to discard his dream of pursuing sports as a potential career. Olsen looks back upon his high school self and lends him wisdom that he wishes he had known earlier.
"When I was in high school, I played quarterback in the football team. I had illusions of playing further but that was ridiculous. I also had illusions of being a professional baseball player, which was more realistic, but I broke my back in my second year of college; consequently, that dream stopped. I would say to my younger self to not hesitate to ask for help. In any circumstances, the idea of doing stuff alone has been my downfall. Whereas when I have asked for help, a second mind and a second pair of hands is way better than one. It is all about pivoting and using what skills you have to transition into the next event, the next career, the next assignment," said Olsen.
Consequently, Olsen was left to find his place in the world of opportunities, but it was not so simple. Although he had some inner-conflicts with his desires, Olsen is ultimately glad he explored multiple careers.
"After working a few different jobs after high school, like camp counselor and asphalt shoveler, I went to work in New York City for an ad agency where I worked in the mailroom. Soon, I left for college and worked at a law firm for a year and a half to find out if I wanted to be a lawyer. Law is finite, it is very fixed, so I ended up moving onto education. However, with my knowledge of law as a teacher, I can avoid some of the pitfalls that are easily fallen into in an educational environment. The skills that I learned from the pursuit of law aided me later on in life," stated Olsen.
With so many options, Olsen faced college with particularity, yet found a place that suited who he was. Gathering his thoughts, Olsen explains how his experience at university taught an integral value that he still affirms today as a writer.
"I ended up going back and forth between a few colleges but I finally landed at Hobart and William Smith college in upstate New York. Incidentally, that is where the women's suffrage movement started, and the college started 175 years ago, so I will be going up to celebrate their reunion this year. The big thing I learned at Hobart is that having all the potential in the world is worth nothing. What's important is that you generate products of various kinds. People started noticing me once I began putting out my writing in the world. In the writing field, until you put your product out there, you really aren't contributing anything," said Olsen.
Olsen connects his love for writing and literacy with his experience at university, as it was the very entry point that pushed him to have such an interest.
"Hobart College was very, very serious about writing. We had to write a 30-50 page thesis just to get into our senior year of college. As I wrote more and more, I realized that good writing was creative writing. It required a lot more words and a higher level of thinking than I had been doing previously. So, I tried to find people that would help me take my thinking level up a notch. That's when I stumbled upon Kurt Vonnegut, who is the most important person in my life in terms of creative writing. His novels showed me the value of writing with figurative language, as it gets the point across and also gets people emotionally involved. I admired those traits from his work, so I began to incorporate similar elements in mine. From there, my interest in writing continued and I became a much better writer," stated Olsen.
Now expressing his creativity more fluently through the lens of ink, Olsen continued to pursue different occupations to find what would best fit him. Olsen tells of a surprising career which heavily intertwines with who he is as a teacher.
"I actually used to own a water park business, called Water Wonderland entertainment complex, somewhere between Odessa and Midland,Texas. I had made some brochures and other advertisements for the park, so when I was told by another person who worked marketing that the park was going to close–I took it over. Which led the park to make a profit for the very first time. It thrived until the oil business destroyed it in the 70s because of inflation. While working at the park, I was able to really utilize my creative side, making commercials, brochures, and even once I got the Beach Boys to do a commercial for the park. But also working with young people between the ages of 16 and 22 helped me out later on. I had to train around 110 people every year, so I was able to use my creative and management side, the best tools for getting into a classroom," said Olsen.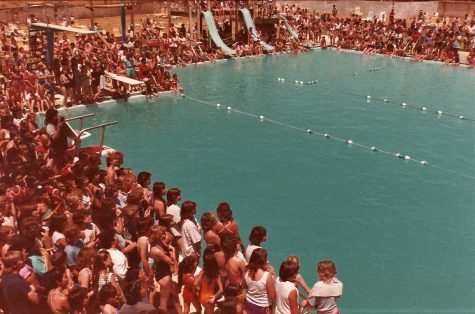 "Teaching has given me a sense of purpose–even more than being a dad or a husband. I have been able to interact with so many people over the years, with each of those experiences giving me a lot to learn from. I think every student I have had has had an element of genius within them, but the education system tries to subvert their talents and their potential. Writing is a creative foray that helps overcome that. I think the biggest reason why people do not achieve potential is from their limited access to discovery. With writing you do not just 'arrive' as the writer, you become the writer. If you think you are going to be one when you are growing up, chances are you won't, because writers write and they discover. If I can communicate what I have learned from my pursuit of understanding over my 68 years of life, then I have the potential of being considered a good writer," stated Olsen.

Ultimately, if Olsen had to pinpoint the core of his love for being a creative writing teacher, he would point to the students before him.
"My access to the classics has shaped my understanding of emotions. There is something so special about words and how we interpret them. Stories are a powerful thing, which is why I, as a storyteller, am teaching. The greatest joy as a creative writing teacher I have received is that I get to watch someone else take off on the journey that I loved. I have watched other people, students of mine, take writing to a whole other level; way further than I took it myself in a very short period of time. They find the passion, execute the plan, and generate products. I truly believe that my students have the potential to be the writers that they hope they can be. Period," said Olsen.