Softball Swings Into District Play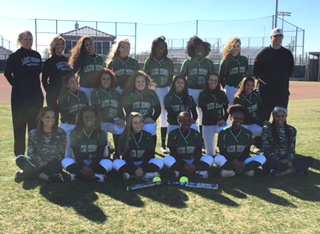 Lake Ridge girls softball opened up UIL District 14-5A with a 13-9 loss to Ennis Wednesday February 23, 2016. The girls fall to 2-5 on the season, and 0-1 in district play.
The girls were a competitive team, and played well most of the season only being a play, or two away from winning a few more games.
Coach Cynthia Manley said, "We were right in the hunt for playoffs last year, but made some crucial mistakes that cost us. This season we are trying to be more consistent and keep the errors down."
This year's softball team is a strong mix of youth and experienced varsity level players. This plays well into the overall chemistry of the team.
Manley continued, "I have several good players and also have five freshmen on the varsity this year. There is usually a different player that steps up each game and has an impressive performance."
This team doesn't have a singular player of focus, but a team of focus.
After this weekend's tournament the girls will return to district play with a game at Red Oak March 1, 2016. The Lady Eagles return home March 4, 2016.
Go out and support our awesome Lady Eagles softball team!