Eagles' Superstitions Lead to Wins
The Lake Ridge football team is district champions. While the team has shown a continuous and impressive work ethic on the field over the past few months, there are other unique and unexpected factors that players believe to contribute to their victories.
Traditional pre-game rituals commonly consist of things like a pep-talk from a coach, stretching on the field, or a chanting of a phrase by teammates such as Lake Ridge's signature 'rock out.' But odd superstitions among players add unique levity to the game. Junior, Zach Allen, considers what he eats on every game day to bring luck to the team.
"Before every game, I eat the exact same meal: fajitas from Rosas. Every single time I've eaten this before a game, we have come out with a win. I plan on continuing this tradition as long as it keeps working like it has," said Allen.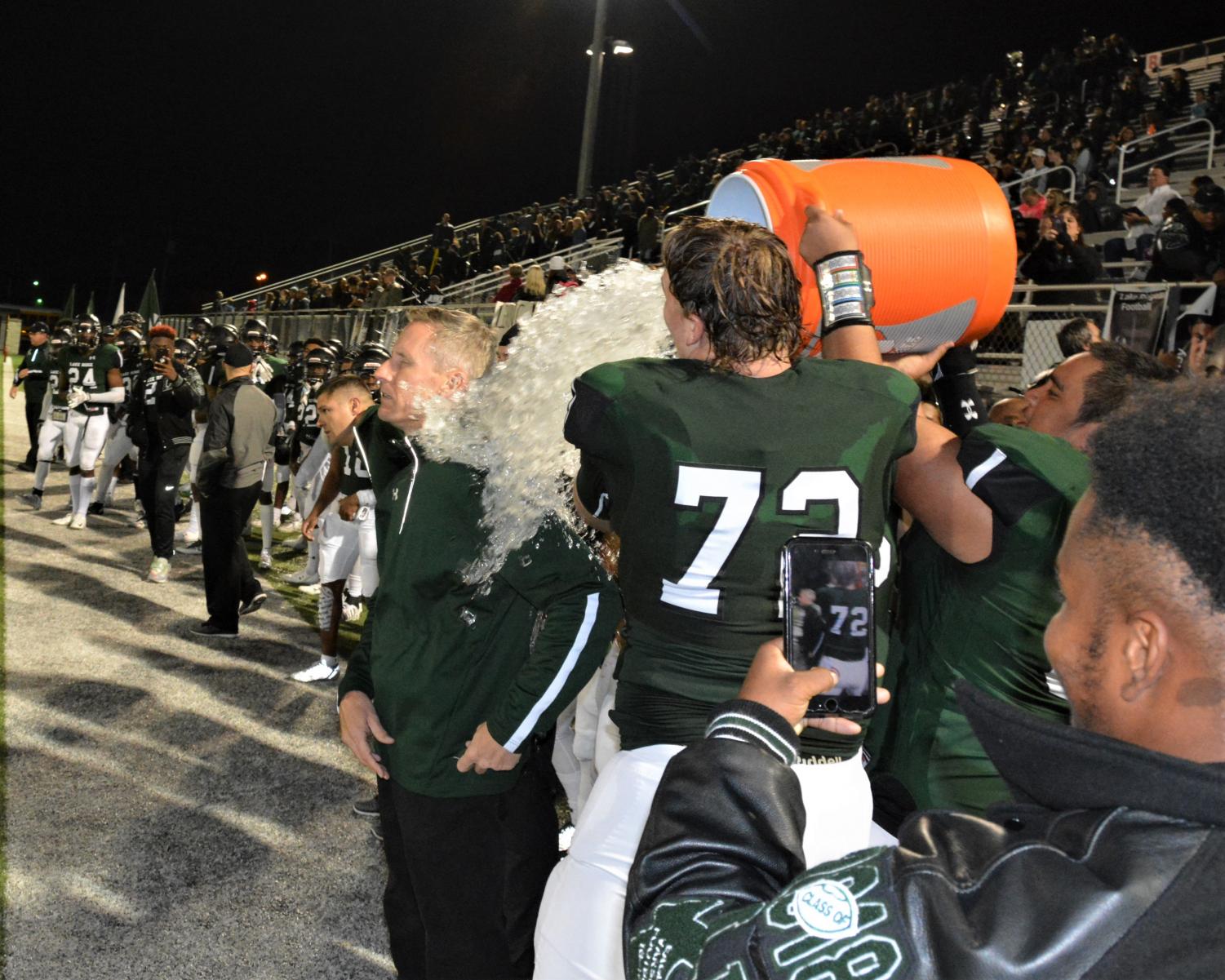 One would assume the music most players listen to before a game consists of anything upbeat, varying from game to game. However, senior, Trejon Hugue, has a specific superstition about the music he believes will make him most successful, and play to the best of his abilities. Hugue prefers a more slow and emotional sound than what would be expected.
"I do the same thing before every game, listen to sad music. Sad songs remind me of more sad things within life, which makes me appreciate the game more and play each one like it's my last. Because I know play-offs are a one and done thing, losing means it's all over and the music makes me want to play even harder," said Hugue.
Aside from internally-focused superstitions, such as what a player may eat or listen to, there is another trend thought to bring luck to the team based upon hair color. As a playoff tradition, many team members choose to dye their hair in a variety of distinct colors as a symbol of how far they have come. Junior, Ronny Gordon, feels pride in his team from this colorful display.
"Dyeing your hair is a tradition for the playoffs every year. To me, what it symbolizes is the hard work that we took to get to playoffs. Teams don't just go to the playoffs with ease, they are there for a reason and we worked so hard to earn that spot, so the dye represents the difficulties we overcame to get there. For me, seeing the purple in my hair is a constant reminder to never give up no matter what is happening," said Gordon.
Among the Lake Ridge football team, the small details and quirks that players see as "lucky" differ between each person. Despite their uniqueness, the common factor each player contains is a mindset that has carried them far this season. junior, Norbert Whitaker, credits the undefeated record this season not to any sort of superstition, but more so the football program's constant way of thinking that each practice counts every single day.
"Our mentality has caused us to be so successful as this season has continued, because of our motto of being '1-0' and taking everything we do day by day, and step by step. I look forward to going into play-offs with my teammates, and continuing this mindset," said Whitaker.