Underclassmen Under Pressure
They may be young and have yet to experience all of high school, but freshmen and sophomores are still able to keep up with the upperclassmen of Lake Ridge when it comes to sports. High school sports allow students athletes to show their skill, whether it be on the field or on the court. With seniors and juniors towering over them, underclassmen understandably might feel intimidated.
Trying something new requires time to adjust to it, which includes changing your strategies and ways of focusing. When people think of a varsity team, they stereotypically imagine tall, strong, tough senior and junior students who have had more experience with the sport. This level of playing is reserved for people who are dedicated to the sport and very good at it. Sarah Piceno is a sophomore who was on junior varsity her freshman year, and is now on varsity soccer this year.
"I don't feel like I have to work harder than the seniors and juniors. We are all fighting for a position to get playing time. So I feel like we are all trying, even the seniors. For example, a senior might not play at all. That just shows that even though you are in an upper class, you are not guaranteed a spot on the field," says Piceno.
Piceno also compares the difference between playing on junior varsity and varsity, based on her transitioning experience.
"On varsity, we are really focusing on our plays, like how to start and finish one. Those little things. I feel like on JV, there is a lot more running and training," said Piceno.
Having a good impression on the people you work with or the people you respect can be an important factor that affects how one behaves, or in this case, plays. Sophomore, Brileigh Peters, is a softball player who has been on the varsity team both her freshman and now sophomore year. Peters says that the level of hard work that the upper and underclassmen put in is about the same. Coaches make the decision of putting underclassmen on varsity teams for a reason, which allows the team to adjust to working together.
"I don't always feel like have to work harder than the seniors, but sometimes yes, just because they are upper class and you kind of have to prove yourself a little bit. I'd say our playing levels are kind of the same. We are very versatile, so you can switch whoever you want in whenever in the game," says Peters.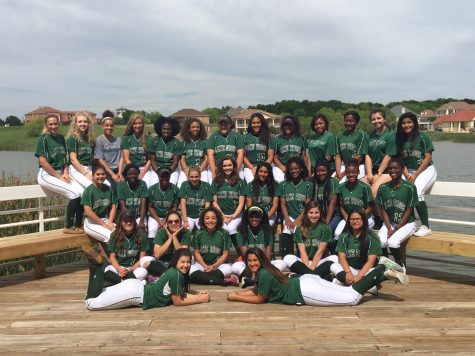 Courtesy of Mansfieldsports.rankonesport.com
Peters also says that putting her attention on something that matters helps her focus on what needs to be completed.
"I try to calm down and not overthink about anything when I am under pressure. Mostly my motivation to get better, and also to go to play-offs again this year. Thinking about those things helps me to concentrate and assert my focus on important things," said Peters.
Although the pressure is definitely there, the effects of it aren't always bad. For freshman Sarah Bane, gaining a spot on the varsity swim team has encouraged her to go above and beyond in and out of the pool.
"There is definitely a pressure when I'm compared to upperclassmen. It changes my work ethic, I feel like I have to put in more effort. I do as much work as I can both inside and outside of the pool in order to be my best. I feel extremely proud that my hard work payed off and i was able to be on varsity," said Bane.
Playing a sport in high school requires experience and skill. Underclassmen are able to live up to their older peers' mastery and competent, while being younger than them. Sophomore and freshmen try to avoid the intimidation of being younger and inexperienced. Being on a varsity team comes with maturity and the need to prove to yourself and coaches how much you deserved that spot.