Teacher Feature: Mrs. Covington
When it comes to school, most students aren't shouting with joy because they have to be there at 7:20 in the morning to learn. However there are a few things that gets students interested and ready to learn. One of these things is seeing teachers who care for them and teach them more then what's on the lesson plan. Mrs. Katrina Covington is one of the chemistry teachers at Lake Ridge High School. For her, being a teacher who cares is her main goal.
Mrs. Covington grew up being influenced by teachers around her, so for her becoming a teacher wasn't a hard decision.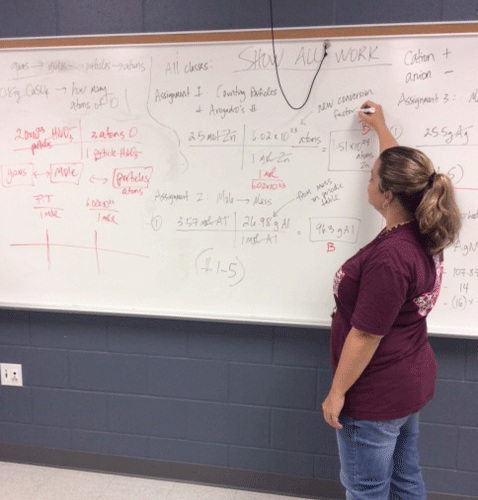 " I started by long term substitute teaching for a teacher on maternity leave. It was the same school my husband was teaching at. I ended up loving it, so here I am 17 years later. My entire family is teachers: my mom, my sister, my husband, my aunt, several of my cousins, and several other relatives. The biggest influence was my husband. I wanted the same schedule so we could enjoy holidays together," Covington said.
Teaching may have have seemed like the obvious choice for Mrs. Covington and in the beginning, substituting was just testing the waters. Nevertheless, it didn't take her any time at all to realize that being a teacher was more than teaching students the basic principles.
"Teaching means much more to me than just curriculum. I want to be a positive mentor to my students. I want to teach them not just science, but how to become problem solvers in life. I want them to remember me as someone who truly cared about them. I especially want them to learn how to be a good student and an organized one."
Her students also see the hard work she puts in. Kamri Zapata, junior, had Mrs. Covington for Pre-AP Chemistry last year as a sophomore.
"Mrs. Covington is a great teacher and is really involved with her students and their work. She always has a positive impact on her students and when I'm in her classroom, I always want to smile," Zapata said.
With it only being the second six weeks of school, it's hard for teachers to already have made a profound impact on their students. Micah Peterson, sophomore, believes that Mrs. Covington has already has made an impact.
"Mrs.Covington is a phenomenal teacher due to the fact that she actually teaches and has a passion for what she is teaching. She is kind, understanding, and enthusiastic about filling her students with the knowledge they will need to succeed," said Peterson.
The impact teachers have on their students is one that will influence them for the rest of their life. Mrs. Covington definitely has an impact that the students will remember.