The Spirit of the Holidays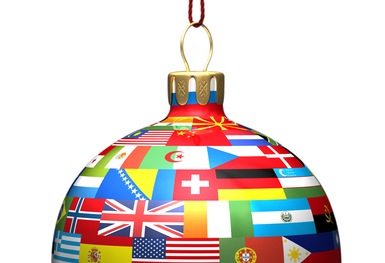 As the holiday season rolls around most people automatically start to think presents, Christmas lights and fun Christmas songs. With Christmas decorations up every where you can't help but get excited for the holidays.
In the US, Christmas is the holiday most people tend to celebrate. Christians celebrate Christmas in light of Christ's birthday.
Junior, Kayla Parnell, is a Christian and enjoys celebrating what she believes is the true meaning of the holiday.
"Every Christmas we always makes sure we incorporate Jesus and His birth into everything we do. On Christmas Eve we always read the Christmas story from the Bible," said Parnell.
Even though Parnell celebrates Christmas, she has friends that celebrate other holidays. Parnell respects and is interested in what they believe and celebrate as well.
"I think it's very interesting and special that others value their family and beliefs as much as I do. It's great that we have the freedom to celebrate what we want," said Parnell.
Another holiday that is celebrated this time of year by the Jewish community is Hanukkah. It is celebrated by lighting candles on the eight days of Hanukkah. Many students in Lake Ridge celebrate it.
Junior Olivia Bush grew up in a Jewish household and has celebrated it all her life.
"My family sets up all our menorah and every night we set a candle that corresponds with whatever night it is. Then we light them after a Jewish dinner which is usually like latkes and some Jewish food my dad makes. Once we light the candles we sing our prayer. Every night we get a small gift," said Bush.
Another person at Lake Ridge who celebrates Hanukkah is freshman, Gracie Howard. The Jewish faith is a very important to Howard and her family and celebrating Hanukkah is a fun way for them to celebrate their faith and also come together as a family.
"I celebrate Hanukkah and to me it really means unity and family, because when you celebrate an out of the ordinary holiday it brings your family closer together. To celebrate we usually have a Hanukkah party every year, we light candles, and we say certain prayers over the food and over the menorah. We also usually make certain foods," Howard said.
Howard and her family enjoy coming together and have traditions they always celebrate. These traditions are something that are always done and they make the holiday more special for them. Howard always get excited about these traditions and this holiday and enjoys sharing her experiences.
"My favorite tradition we do is playing dreidel and my mom buys really good Jewish candy that we can gamble with. I'm really excited to share this because overall being Jewish there are so many fun holidays that a lot of people over look and it's just fun to share with my friends and educate others about it," said Howard.
Hanukkah is not only the only other holiday celebrated besides Christmas. Kwanzaa is a holiday celebrated by people with an African heritage. This holiday might not be as widely known as the other Christmas or Hanukkah, but still holds great importance to many around the world.
The holiday season is always exciting and with so many holidays to be celebrated, it's nice to see so many different people come together and enjoy celebrating their faith and heritage.