Team USA via Lake Ridge
Sophomore, Madison Williams made history by becoming the second girl to represent Team USA from Lake Ridge in volleyball. Williams traveled to Colorado Springs where 20 of the top incoming sophomores competed, to make the national team.
After she was given the news that she made the team, Williams was overwhelmed with emotion.
"I was the youngest one trying out, so I knew I had obstacles to overcome, but when I received the news I was flooded with emotions. I was so excited to represent my country," Williams said.
The tryouts were two weeks long, followed by five days of training in Brazil, ending with the World Championship in Argentina.
As Williams was traveling through South America, her arrival back home was anxiously anticipated by teammate sophomore Logyn Hinds. Not only is Hinds Williams' teammate at Lake Ridge, but they both play on the same summer team, which also won the National Championship for 15U.
"I was excited for her to get home because I was looking forward to seeing what she had learned and how she would apply it," Hinds said.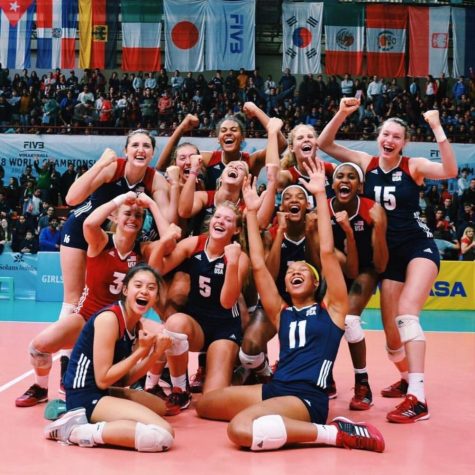 Courtesy of Madison Williams
Madison was thankful for all the places she was able to travel.
"My favorite place was when we went to Brazil because, I was able to see the Christ of Redeemer," Madison said.
Madison missed the first couple weeks of school along with a handful of games. She made her return to the court on August 29, against Mansfield High School. Usually a starter, Williams came off the bench due to her missing the first part of the season. As she checked into the game the crowd erupted with the chants of "U-S-A!"
While her teammates awaited her return to the court, her presence was also missed in the locker room. Senior right hitter Lindsay Johnson, enjoys what Williams brings off the court as well.
"Madison always lights up the room with her goofy personality and she's one of the most genuine people you'll ever meet," Johnson said.
Although her return on the court was triumphant, the downside to her achievement was that Williams felt overloaded with make up work.
"I missed my family and friends so much, but it was also very stressful getting caught back up with everything," Williams said.
The expectations are high this year for the Lady Eagles, as they started off district undefeated for the first three games and holding an overall record of 24-8.
"We can go to state but with that, we know a lot of work and preparation come with that goal," Hinds said.
The Lady Eagles are currently sitting at 3-1 in district and play Midlothian at Lake Ridge on Tuesday.