The Voices That Go Unspoken
A citizen. A teenager. A student. A voice. As a person enrolled in Lake Ridge High school, each student is given countless opportunities to make or suggest the changes they wish to see. With the power to make your school environment and experience more enjoyable and fit to your expectations, why do these available efforts go unmade?
No matter where anyone goes, whether it be a five-star restaurant or a high school cafeteria, there will be elements that don't meet perfection. For example, students often dislike the sight of filthy napkins or pieces of food left on tables they will soon it on. But where a mess is seen, a mess had to first be made. To avoid the event of being greeted at lunchtime by the previous guests scraps, the solution is as simple as being the change you wish to see. Where no trash is left, no trash can be found.
Regarding student opinion, it is impossible to please everyone. However, the best school environment is one where students are able to present their ideas and have them considered for events, campus, and more. Within the Lake Ridge community, it is easy to find various rants or indirect comments on social media to bash occurrences such as shirt design, or even theme days. But just as every successful student body does, voting is held, as well as a period for suggestions to be submitted, to ensure everyone who wishes to contribute or even help in making a decision, may do so. Before declaring something "too ugly", or, "too lame", why not take the chance of making your own contribution?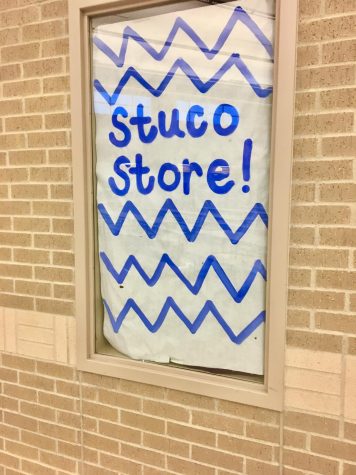 Sophomore, Megan Hinojosa, is a member of the Eagle Elite Drill Team, and makes an effort to put on her best performance for Lake Ridge students and faculty when participating in events. Aside from using her personal talent to better students Lake Ridge experience, Hinojosa understands the importance of taking charge when there is opportunity to make a positive contribution to the campus.
"I believe it's important to take action because it allows students to suggest the things they would like to see take place at Lake Ridge. I notice the kids that don't suggest anything are often the ones who are always complaining about our school, and all the activities that take place within it," said Hinojosa.
Within Lake Ridge, many students are involved in clubs, sports, and organizations to accompany their academics. To showcase the talented and diverse student body, there are events such as seasonal shows, and pep-rallies. Attendance at these occasions is not required, however encouraged considering the hard work participants and the events' planners put into them. In the case of on-campus happenings, like pep-rallies, the selection of performances and competitions are also chosen, and may be voted on by the student body. If a student wishes to participate themselves, they may ask to. If a student wishes to have a specific theme or game for an assembly, they may ask to. And if a student wishes to make any alteration or even addition to an event, they may ask to do that too. Rather than blaming those who put forth great efforts to make events at Lake Ridge enjoyable to those enrolled, it is far more efficient and practical to make suggestions or even try at all to have the activities that you believe to be better or good additions to these occasions.
Lake Ridge principal, Brandon Johnson, not only accepts, but encourages students to use their views to better their school experience. Despite Johnson being new to campus, he is highly involved with listening to his students, and allowing proactive voices to be heard.
"Use your voice, and approach us as administrators, feel free to share any thoughts or concerns with me, we are always willing to hear what students want to see," said Johnson.
While complaining and frustration is absolutely natural and common among every person, it is both illogical and ineffective to make objections to things when you do not care enough about them to even try and make a change. No school community is perfect, or even close, and student opinions are crucial to having the best on-campus environment possible. However, it is seen too often how easy it is to protest, and how rare it is for anyone to step up.