Stop and Smell the Roses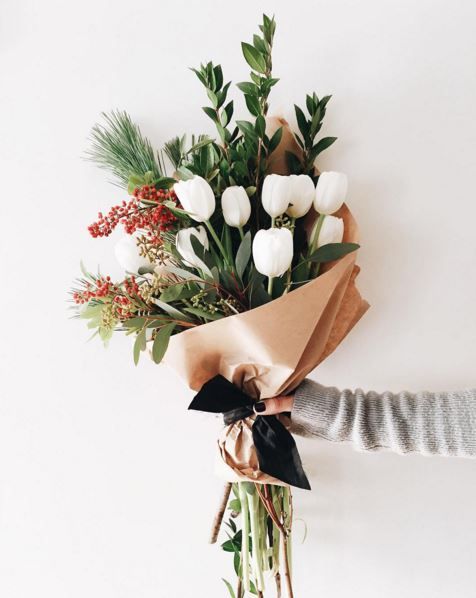 With Valentine's Day here, rows of chocolate, flowers, and teddy bears are all filling up the front sections of grocery stores. While this holiday seemingly revolves around couples, and stores are excitedly promoting heart shaped chocolates, it's easy to forget the work put into the gifts that people hurriedly grab for their sweetheart at 5 o'clock on Valentine's Day.
A box of chocolates or a teddy bear might not be so hard to buy, but when it comes to floral arrangements and bouquets, there's a lot more involved than just placing something on a shelf and waiting for someone to buy it.
Arranging bouquets and flowers isn't as easy as it sounds, in fact there's a whole profession that's based around putting together wreaths, garlands, floral arrangements, and bouquets. And Valentine's Day is one of the busiest times of the year for florists.
Florist Jennifer Lory, who works at Tom Thumb in the floral department, is ready for the Valentine's Day rush. She has extended their hours and adjusted prices.
"We usually open up about two hours early and close two to three hours later around Valentine's Day. And for the prices, flowers in high demand like roses usually double, while everything else stays the same," Lory said.
Roses are always a go-to for Valentine's Day, being the flower of love, but for people who aren't too keen on roses or paying the extra money for them, have other options as well.
"Lilies, hydrangeas, orchids, baby's breath, and tulips are all in pretty high demand right now too. The best deal I think is probably on tulips, they're always a good price and always in, and roses increase, and they're so standard, so I would say tulips and lilies are the better deal," Lory said.
The demand for so many kinds of flowers causes more stress on the florists, and this specific holiday is one of the busiest and most chaotic for them especially.
Zahra Kalil, a florist at Sam's Club, is fairly new to the job of arranging flowers but has been there long enough to see how much busier the weeks leading up to Valentine's Day are.
"I've only been here about six months, so it's my first time being a florist on Valentine's Day. It's been very stressful getting all the orders in and having so many people need arrangements and roses," Kalil said.
Getting flowers before Valentine's Day is popular, but surprisingly there are a considerable amount of people who get them on the day of.
"There will be people waiting and lined up outside the door. It's insane, but so many people come in on Valentine's Day, and just grab flowers to take on their way to or from work, so the day of Valentine's is definitely a nightmare," Lory said.
While it might seem crazy to see people rushing around on Valentine's Day to get last minute gifts, consider how hectic it is for the people making those gifts are. Valentine's Day is a holiday of love, but some people, especially florists, just don't have the time to celebrate when they're busy making sure other people's day is filled with love.