Dancing Through Life
Everyone has a story to tell. It's part of writing an individual's story. From growing up, going to school, and an activity an individual likes to do. Senior, Kylee Riddle, is the captain of the Eagle Elite Varsity team. Riddle has led the Eagle Elite team to be the best they can be while performing at pep rallies and football games. 
Riddle has been in drill team since her freshman year of high school. She thought joining. The Eagle Elite team would be a fun experience and an in school activity. Riddle says drill team has been the best experience of her years in high school.
"Being in drill team has been so much fun. I love dancing, teaching, and helping others learn the routines and I'm really gonna miss this experience. I hope the team will continue to pursue being in drill team because it's honestly a sisterhood said Riddle.
While being in drill team, Riddle has made many sentimental memories with the team. From practicing after school and hanging out with her teammates outside of school. Riddle loves treating the team as equals and makes sure that everyone on the team has special parts in the routines for pep rallies and football games. 
"My team and I have had so many memories with each other. We do a lot of bonding while we practice so we've definitely made fun yet sentimental memories with each other. I also love giving a chance for everyone to shine during routines. I don't want any of my teammates to feel left out so Coach Harris and I always make sure we have different people leading the team for each new routine," said Riddle.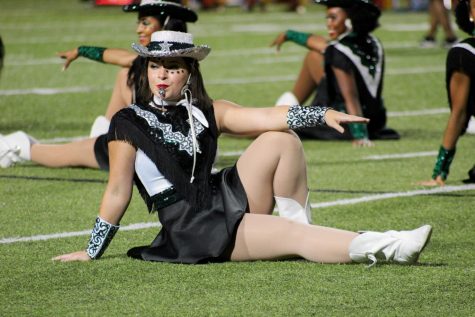 Since Riddle is a senior this year, someone will have to take her place as captain of the varsity elite team for the next school year. Riddle has so much of the season ahead of her and has already accomplished a successful team this year. Including many successful pep rally performances and successful homecoming dance routines. Sophomore and Junior Varsity captain, Allison McGrath, said she will miss Riddle and hopes the future holds success for her.
"I will miss her after she graduates. She has been an amazing leader and role model to the varsity team. I wish her nothing but good luck for whatever the future holds for her because she deserves it," said McGrath. 
Riddle is known for her skillful dancing, kindness, and intelligence. Her team will miss how dedicated Riddle is to drill team. Hannah Raby, junior, will miss seeing Riddle's leadership skills and seeing her kindness during practices.
"Honestly I'm gonna miss how awesome she is. Kylee is an amazing drill team captain and she's super kind when it comes to everything she does. She's always so kind to everyone and she really does spread good vibes among the team. I hope she doesn't lose that because the world needs more people like her," said Raby. 
Aaliyah Brown, sophomore, says she will miss how fearless Riddle is when it comes to taking risks for each dance routine. Brown will also miss Riddle's sweet personality and how she is as a human being. 
"I'm going to miss her a lot. I love how she is as a person and I love she touches the lives of everyone around her. She's also a big risk taker especially with every dance routine we do. She makes it challenging but super fun at the same time. I wish her nothing but the best and I hope we can stay in touch too," said Brown.
Every journey eventually comes to an end. Sometimes after an old journey ends a new one begins. For Riddle, her story comes to an end once she graduates, top ten percent of her class, and being a dance teacher every Saturday for little kids. Riddle will never forget the story of her time in drill team and at Lake Ridge High School as a whole.