Teens Voting in Local Elections
Saturday, May 1st will be the last day of voting in the Mansfield City Council elections as well as be the day of Texas's 6th Congressional District Special Election. While fewer people vote in smaller elections-such as these, voting in them can be a right of passage and a civic duty to some.
Christopher Ricks, senior, has recently come of age, having turned 18 this past January. This gave him what he felt to be the perfect opportunity to vote in his first election on Saturday. Many young adults do not participate in local elections, according to The Texas Politics website where they found that only 32% of Texans ages 18-24 vote. However, Ricks was determined to use his opportunity to vote and thoroughly research the candidates beforehand.
"I looked on Ballotpedia because I did not know who was running. I looked about a week before, studied the candidate who was running, saw who to vote for, and then just showed up and voted. I voted more based on the City Council because I worked with the Christy K. Moore campaign for our City Council seat place 5," stated Ricks.
The City Council member election is to determine who will direct laws and policies on the local level. Congressional District Special Election will be held after the death of Congressman Ron Wright due to COVID-19, therefore the election will determine the replacement. Lauren Ready, senior, has also decided to exercise her right to vote in this election. She is aware of the usually small turnout of young voters, especially in local elections, but feels as though that trend is changing with the newer generation who are now coming of age to vote.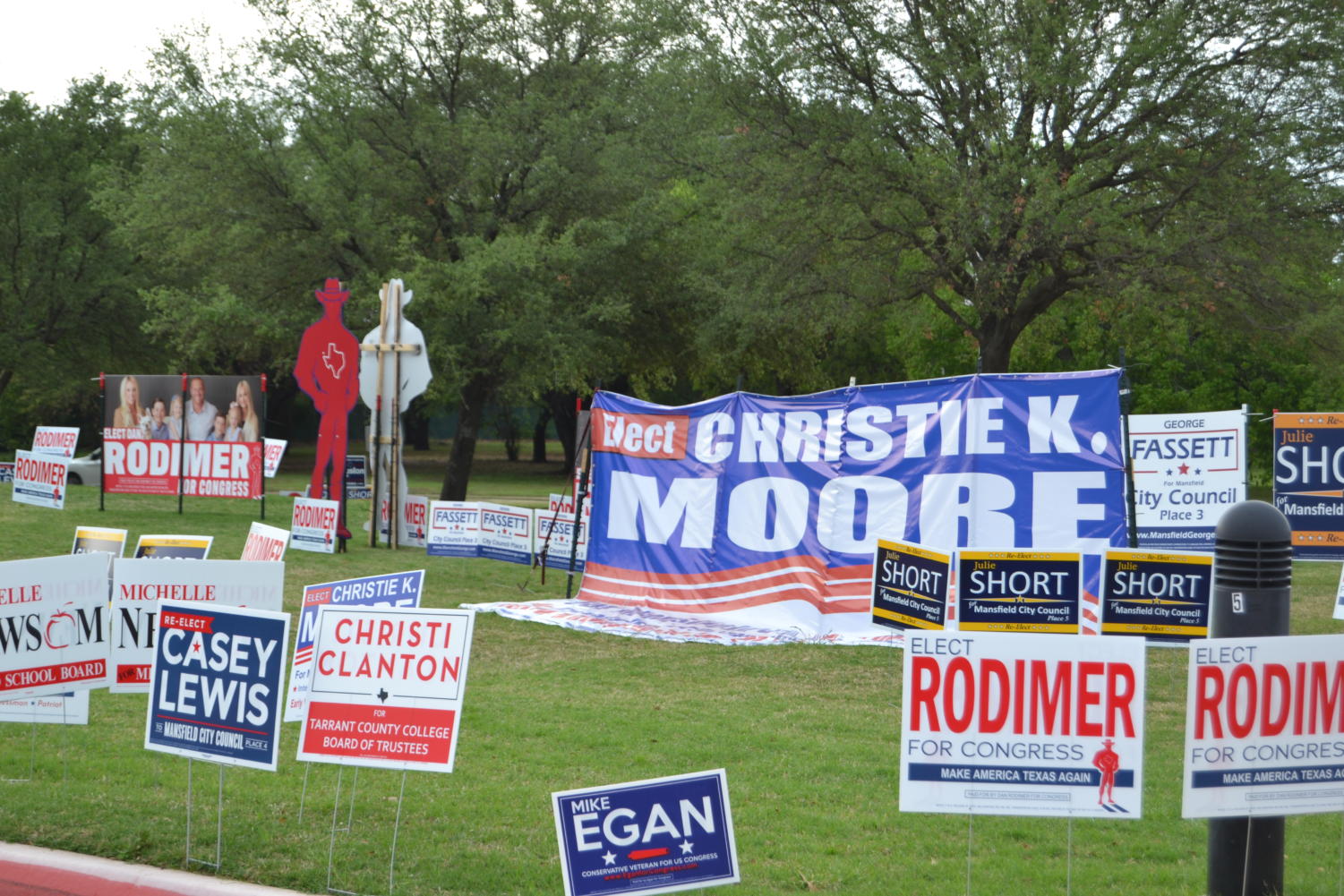 "Teenagers should vote in elections. People give us a lot of slack, but my generation is seeing a movement of 'we are not going to take any crap anymore.' It is important for young people to vote locally and nationally, and especially locally because it has a bigger immediate impact on us and our community. We are the future, so we want people that will move in the same direction we are moving in," states Ready.
Ricks feels that the importance of voting lies in the power of deciding what the community looks like. Local elections are what determine taxes, schools, plans, and infrastructure. Ricks finds that having a say in those things is very important, and is prepared to utilize his rights to make sure he has a part in those decisions.
"Voting is a big duty, and it has a culture of really being active within your democracy and your community. It is an essential way to get your opinion out there. If we don't get our voices heard then a lot is not going to change. We have to use every avenue; protesting, petitioning, educating others, and most importantly voting," said Ricks.
However, voting with a plan in mind is crucial, according to Ready. There are websites and indexes on the internet such as Ballotpedia, used by Ricks, that can give information about candidates as well as statements put out by them about their values. Ready believes that information like that is vital to keep in mind to make the best decisions.
"I think that it is very important to research anything. Even if someone isn't voting age, it is important to know who in your community is in office, and what their ideas are and plans. Going on Google for a couple of minutes and reading about these candidates is important, and can help give an idea on which way you wish to vote when you eventually do," says Ready.
Michael Smith, U.S. Government and Politics teacher, feels as though more local elections will have a bigger impact on day-to-day lives and policies. He encourages his students to be informed and put forth the effort to know what is going on and what ballots are being run. Though he does not have much experience in voting himself, he feels as though students should exercise their rights and make educated decisions.
"Voting is something that I wish I would have taken a little more seriously earlier in life. I would encourage people to also spend time getting to know the people around them and interacting with the community, which could change how people form their opinion of the world," stated Smith.
All in all, it seems that research, whether young adults or those of whom are voting for the first time, is quite important. That research is what helps voters determine who they want in office, and after the final elections on May 1st, Texas will have a new Congressperson and Mansfield will have 3 new City Council members.