The Slap Seen Across the World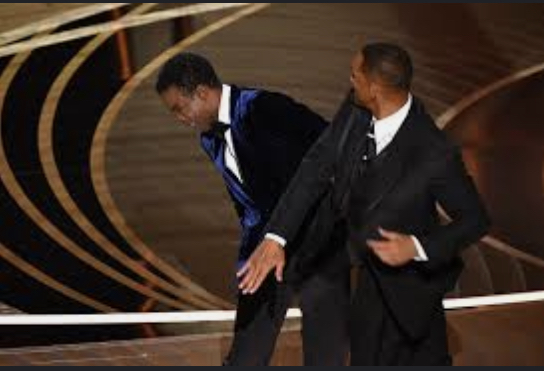 The Oscars are a night for actors, actresses, directors, and other people who work in the film industries to be recognized for the work they produced throughout the year. In the past few years many historic moments have happened at the awards show that have changed the face of pop culture, however, at  this particular awards show the awards themselves are not what is making headlines. Instead, the dramatic moment between Will Smith and Chris Rock in which Smith physically assaulted Rock in front of a live audience and millions who were watching from home has been all most people have been talking about from the historic awards show.
After Rock, who was presenting the Academy award for best documentary feature, made a joke about Jada Pinkett Smith's hair, she suffers from alopecia which causes her to be bald, her husband, Will Smith, took it upon himself to walk onto the stage and slap Rock. After he went back to his seat he shouted a series of expletives to Rock who remained on the stage. Many members of the audience as well as those watching at home were shocked. This shock turned into outrage for many who felt as though Smith crossed the line. However, some people disagree about whether or not Rock deserved to get slapped due to the joke he made. Senior, Skylar Parker, feels that while Smith could have handled the situation differently, Rock did deserve consequences for his joke. 
"Chris Rock bashes black women all the time so I feel he did deserve to get slapped, however I feel like Smith shouldn't have taken it to violence unless he wanted to do it backstage and not in front of a million people. I feel like Smith reacted so harshly since his wife has a medical condition and I feel like there was a lot of buildup as well, which caused him to react that way. I don't think Smith should face consequences because the slap was out of anger. That was Chris's fault for making that joke. You never know how people will handle a situation, however Chris Rock handled the situation very well and professionally because if it was someone else it could've ended in violence," Parker stated.
Quite a few people even questioned whether the slap was genuine or scripted to boost ratings, due to the fact that views and ratings have been down in the past few years.  Some like Parker say that they wouldn't have even known the Oscars were occurring had the slap not happened.
"I feel like the slap could have been staged due to the fact that a lot of people didn't know about the Oscars and they wanted to bring attention to it. But then again, it could have been real because the joke was very out of hand," Parker said. 
However, others feel that even though Rock's joke was inappropriate and he should face consequences, violence should never be the solution, especially as a response to a verbal assault. Senior, Aryca Rae William, thinks that Smith's reaction was too harsh. 
"Will Smith should have handled it a little bit differently like behind the scenes by talking to him face to face. I understand that he was probably going to be offended because Jada has a condition. But his reaction should have been different. The way he handled it was embarrassing and unprofessional. I think Smith should lay low right now. I hear some movies and services like Netflix and Hulu are not going to be working with him right now which I think is a little too much because he is a good actor," Williams said.
Some feel as though Smith was justified in yelling at Rock but the slap went too far. Despite humiliating Rock in front of a large audience, people like junior, Landon Grider, think he has faced enough consequences for his shocking actions. 
"I don't think Rock deserved to get slapped for his joke but I do think he deserved to get yelled at. However, Smith could have waited until after the Oscars were over and like they were backstage and he could have talked to him about it. I think Smith has faced fair enough punishment," Grider said. 
Although many agree that Smith overreacted and was a bad influence on the people who viewed the altercation, not as many people agree on the alternative routes Smith could have taken in order to express his anger toward the joke. Environmental Science teacher, Lindsey Tashman, thinks that the situation could have been handled differently.
"I do not think that anyone deserves to get slapped for verbal altercation. I don't know exactly how he should react. I think if I was in a similar situation and had the press, maybe I would go to someone that would publish my response like an open letter. I think didn't Smith has already faced enough consequences since he removed himself from the Academy. I feel like that was enough. I think that celebrities do open themselves up to criticism. They don't necessarily deserve it, but I think they do open themselves to it," said Tashman..
All in all, this year's Oscars were extremely eventful and left everyone with an opinion on what happened and how it should have happened.