Steel Magnolias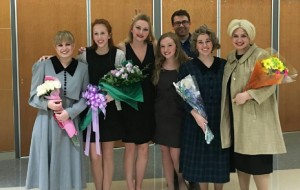 On Nov. 13 and 14, the Lake Ridge Performing Arts Center put on "Steel Magnolias," which is a story about the bond a group of women share and how they overcome the loss of a friend.
Katherine Piwonka ,junior, played Claire, the mayor's wife, explains her experience performing the play, "I felt very nervous. We had four performances total, which I believe is the most we've done."
After all the performances that theater does, you'd think that they wouldn't be nervous; however that is not the case. "I also felt very happy and excited. It was a really good serious show, which is the first that we've done, and I really enjoyed that," Piwonka said. In conclusion, the whole cast did great.