Foreign Language, Bueno o Malo?
Lake Ridge Students must take two years of a foreign language to have the credits needed to graduate. Students are offered a variety of foreign language classes including Spanish, French, Latin, German, and American Sign Language. The foreign language classes are taught at either Lake Ridge or at Ben Barber, Mansfield Independent School District's career school.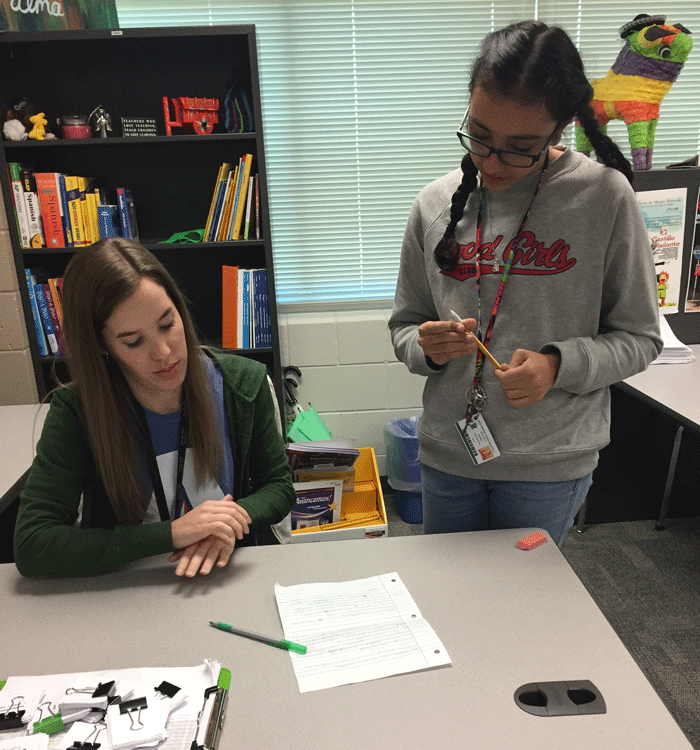 Melissa Mohler, Spanish teacher and Multi-Cultural club sponsor at Lake Ridge, recognizes the importance of students learning a language different than their own.
"Learning a language that is not your first is a vital resource needed in life. Unlike the U.S., other countries know two or more languages, and the generation in school now needs to recognize the options ahead of them regarding languages," said Mohler.
Some students agree with Mohler's sentiment. Abigail Nguyen, freshman, takes Spanish and sees a foreign language as a way for everybody to come together in our country.
"I think everyone should be required to take a foreign language because America is so diverse, so we need more ways to interact with one another," Nguyen said.
Unlike Nguyen, Kwame Morrison, a freshman who also takes Spanish, doesn't see the benefits to learning a second language if your first language is English.
"English is already a standard language in many countries, so it seems pointless to accommodate for other languages not spoken much in other parts of the world," said Morrison.
However, Marjorie Lim, a freshman who is currently taking French, agrees with Nguyen that our generation can contribute to making America more diverse.
"Students should be required because the benefit of a bilingual brain outweighs struggles you may have," Lim said.
Students do have the opportunity to take more than the minimum of two years of a foreign language.
Emily Su, senior who has taken four years of Chinese, questions students that doubt the advantages of learning a foreign language.
"Why would one not even consider taking a foreign language? I think I provide benefits in more ways than we think," said Su.
Parents of students taking a foreign language witness the development of the new language. Christy Stevens, parent of freshman Kylie Stevens, enjoys the sight of her daughter and her friends learning a new language together.
"I absolutely love that my daughter and her friends are building a better bond by learning a new language," Stevens said.
In spite of all the positives, Brooke Zuniga, freshman, still thinks that learning a new language is pointless.
"My future job isn't a job that needs a foreign language, and neither are many others. We shouldn't be forced to take something we don't need," said Zuniga.
Although you may not need it directly, some jobs provide other benefits when you speak a second language. According to Financeandcareer.com, you could earn $800-$1,520 more per year if you know a second language.
According to Mohler, we as citizens of the U.S. should take in to consideration what foreign languages do for us.
"Even though it may be stressful, learning a second language is valuable. I hope to see more people start realizing the importance of understanding another culture," Mohler said.