President Obama's Funniest Moments At The WHCD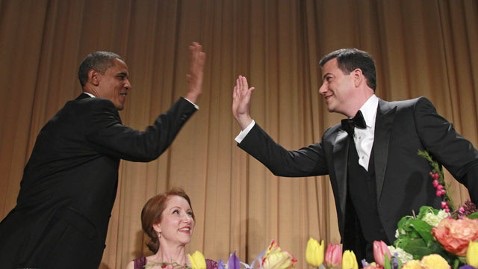 As an avid participant in the political and fashion industry, the White House Correspondents' Dinner is a must watch for me. Ever since my spark of interest in politics, I've found myself watching every debate and counting down the days until I can finally become a legal voter. But for those who don't know or just aren't interested in politics, here's what the White House Correspondents' Dinner (WHCP) is: a charity event to raise money for scholarships and a gathering of the White House Correspondents' Association.
This most recent WHCP was one to remember though. Why? Because this was President Barack Obama's last WHCP. As you can imagine this dinner is for some of the most respected and influential people in America but that didn't stop President Obama from cracking a few jokes. Throughout President Obama's presidency he has been bashed for the decisions he has made for the country as well as accused of not being from America. But lately he' seemed to stop caring what people think of him and is just enjoying the rest of his time as president. So at the WHCP dinner he took this as a time to call out a few people and even have some fun at the event. He made some remarked comments during his speech and definitely got everyone's attention.
"With that, I have just two more words to say. Obama out." — @POTUS #WHCP via The White House (@TheWhiteHouse
First off, when the President walked out to the podium Anna Kendrick's "Cups" was playing in the background which is relevant because we're gonna miss him when he's gone. It's easy to see President Obama will definitely be one of the most remembered people in American history. Not only because of his funny jokes but because like any good comedian he mocks himself.
"Last week, Prince George showed up to our meeting in his bath robe. That was a slap in the face. A clear breach of protocol."- President Obama
One of his iconic lines at the WHCP was when he compared Hillary Clinton's attempt to attract a younger audience to an aunt trying to figure out how to use Facebook. While also poking fun at Bernie Sanders, calling him a "comrade" and mentioning his current status. But is it really a presidential comedy show without speaking about Donald Trump? President Obama later spoke about the presidential candidate who wasn't at the dinner saying.
"I am a little hurt [Donald Trump] is not here tonight. We had so much fun the last time. And it is surprising. You've got a room full of reporters, celebrities, cameras, and he says no. Is this dinner too tacky for The Donald? What could he possibly be doing instead? Is he at home, eating a Trump steak, tweeting out insults to Angela Merkel?"- President Obama
He also mentioned a bit about Kendall Jenner, an American supermodel and member of the Kardashian/Jenner family, he openly admitted that he met the Vogue cover star backstage earlier but "[Is] not exactly sure what she does. But I am told that my Twitter mentions are about to go through the roof". Kendall laughed it off and told a reporter that it was her first time ever being starstruck, she also mentioned that "He [President Obama] was like, 'Say hi to Kim and Kanye', I was like 'Okay!'"
If you enjoyed reading this article comment below!