5 Stars for Love, Simon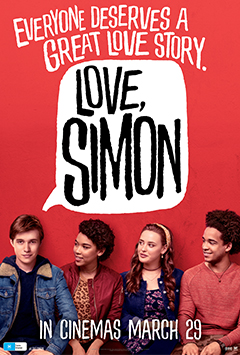 Released in theatres on March 16, 2018, Love, Simon, was a hyped film that did not dissapoint.
The movie focused on the difficulties of a teenage boy keeping secrets about his sexuality and his coming out. Simon, the closeted gay teen, emails an anonymous profile off of his school webpage. They become pen pals, their friendship growing from the shared secret of their sexuality. When Simon's emails are exposed to a desperate theatre stereotype, he's blackmailed into setting one of his friends up into a disastrous relationship, hurting several people in the process.
The film carries an ongoing theme of intensity. Simon's facial expressions were intense, the depth of his friendships were intense, and the relationship he forms with the anonymous profile was intense. While watching the film, I felt extremely connected with Simon due to the ability to relate to having hightened, intense emotions as a teen. Senior, Jake Neufeldt, felt that the movie was easy to relate to, in that Simon was put through many situations teens face today, whatever their sexuality.
"Whatever your sexual orientation may be, we all face awkward situations as a teenager. It's part of being a kid. It's part of growing up. And Love, Simon did a really good job of getting to everyone, on a deeper level," says Neufeldt.
Something that stood out to me was that the main character faced not only being a victim, but also had to deal with fixing and owning his own mess. It was a realistic, relatable situation that any and every teen will most likely face through high school. In the movie, Simon cried over it, sulked about it, & apologized as he should have. Junior Karina Hernandez thinks it was the ultimate cherry on top.
"I think the movie was just relateable. It felt realistic, and I know that a lot of teens today can really connect to that," says Hernandez.
One of the most well played roles I noticed was Simon's mom. Jennifer Gardner made one heck of an accepting mom. She wasn't cheesily portrayed as someone taken aback that reassured her child over and over to where it was obvious she was uncomfortable. We've all seen those televised mothers. Gardner nodded, cried, spoke & hugged at all the right times. She let Simon have his space & kept the household running as smoothly as it had before. It was refreshing to watch, especially for Hernandez.
"I love that Simon's parents were so accepting. Through the movie they went back over a montage of clips of Simon growing up, and you could see that his mom kind of knew the entire time, and when she found out she continued to love him unconditionally," says Hernandez.
As someone who openly supports the LGBTQ+ community, I think this film was a genius cinematic platform that is inspiring to society. It inspired not only LGBTQ+ members but also others, those who are afraid to face something else, something that isn't their sexuality. In a society forcing you to be anything but yourself, Love, Simon encourages everyone to not care what others thinks. Love, Simon encourages you to love yourself. I'd give it five stars and a high five.