The case for Kawhi Leonard as NBA MVP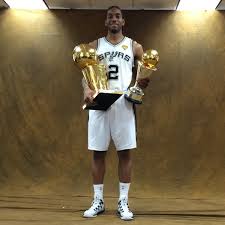 (this article will be focused on comparing Leonard to the leader of the MVP race, and last years MVP, Stephen Curry)
Kawhi Leonard is a freak. With an NBA title, Finals MVP, Defensive Player of the year (DPOY) and a likely All-Star selection this season, only one thing is missing for this future hall of famer, an MVP trophy.
Kawhi Leonard's case for MVP is as strong as anyone this season. Leonard has improved in almost every statistical category, averaging career highs in points (20.2), assists (2.6), blocks (0.9), free throw % (.878), 3 point % (.483), and minutes per game (33.1). He has quickly became the leader of the veteran Spurs, who sport a 34-6 record, second only to the Golden State Warriors.
The most interesting argument to Leonard's MVP debate is his age. He is by far the youngest top 10 MVP candidate at 24 years old. Leading candidate and reigning MVP, Stephen Curry, is in his 7th year of the league and is 27 years old, a full 3 years older than Leonard.
What are the similarities between Curry and Leonard? One championship, and that's just about where it ends. Curry stands as an offensive juggernaut, while Leonard, dubbed "The Claw", is the best defensive stopper in all of basketball. Though Curry barely leads Leonard in steals per game (2.1 to 2.0), Leonard's .9 blocks smothers that of Curry's .1. And while Curry's 29.8 PPG smothers Leonard's 20.2, Leonard is besting Curry in field goal and three point efficiency. Curry, while he has won a regular season MVP, does not have as many awards as Leonard, who has a Finals and Defensive MVP under his belt.
With 3 months left in the NBA regular season, any top ten candidate can emerge as the leader for MVP, but for now, mine is Kawhi Leonard.