Coach Allen Gets Down to Business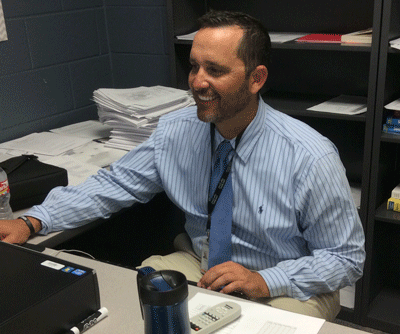 This year Lake Ridge High School welcomes a new teacher to the school, Christopher Allen is not only our new Sociology and Advanced placement Psychology teacher, but he is also our school's new outside linebacker Varsity football coach.
 Before joining the Lake Ridge family, Allen, taught for some time before becoming a traveling businessman. Allen was the owner of a consulting company, where he taught adults about leadership, transitioning from a businessman to a high school teacher has been difficult to get used to.
 "It's been crazy busy, being a business owner you set your own schedule, so working on someone else's time can be difficult," Allen said. "I've heard a lot of great things about this school, from friends who work here, and I had high expectations and they all have been met."
Senior varsity football Player, Boston McNair, describes what it is like to practice and play under Coach Allen. "It was easy to get use to him, he came here and he knew what he was doing, it was an easy transition to a new coach," McNair said.
Welcome Coach Allen to Lake Ridge in the comments below.