Third Thursday of the Month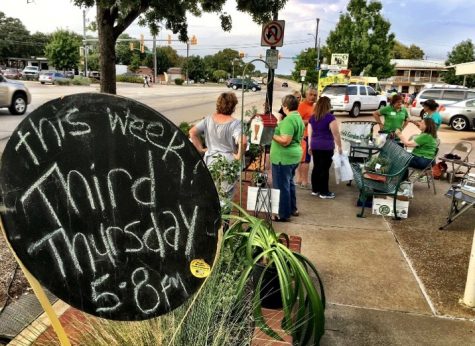 The city of Mansfield is known for hosting its Pickle Parade, Wurst Feat and the Christmas Parade. These events bring the community together and help revitalize the historic downtown area.
Another event which helps bring life to downtown Mansfield is Third Thursday.
On the third Thursday of every month the downtown area comes to life with food trucks, vendors, characters in costumes, children activities and keep the shops open late for customers to shop.
Kathryn McNortan was a fist time vendor, she is the owner of Kathryn's Book Nook. It is a literacy company that focuses on children under 10 years old.
"Third Thursday for me is a great opportunity for the community of Mansfield to come out and meet, greet, support each other and global economic area."
Many shop owners, like Mary Elizabeth Smith, owner of the Little Blue Goat, and employees enjoy the people and that the historic area is getting recognized.
"Third Thursday to me is the revitalization of our historic area and more people discovering about historic Mansfield, and realizing there is a past here that is connected to our future, Phillips said."
Downtown Mansfield was once the place to hang out and enjoy yourself. But it's not the same way anymore. Dave Goodwin, the president of Discover Historic Mansfield is working to make it that way again.
"Third Thursday is an opportunity to take a personal part in the growth and rebirth of Downtown. This was once the Hub, the center of Downtown, and I'd like to see it return to that glory," said Goodwin.