Bye Bye Birdie Flies to Stage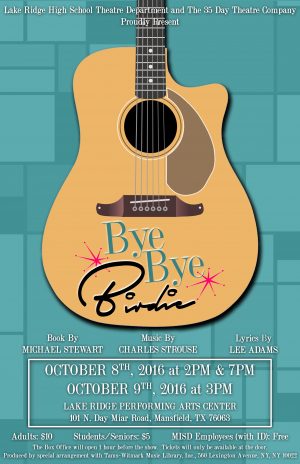 Lake Ridge Theatre will be presenting Bye Bye Birdie, a 1963 musical/comedy based on a book written by Michael Stewart, Oct. 8-9 in the LRHS Performing Arts Center.
The theatre team has been working to put this play into production before the school year even started.
"We've got eighty percent of the set done and we've been working our hardest at show choreography and were in a really good place," said Theater Department Advisor, Heather Morrill.
The lead in the play, James Mattler, junior, has been practicing hard to make sure the play goes well.
"I'm really excited for the opening performance. I've been sore from practice but I know its going to pay off," Mattler explained.
The sky blue Bye Bye Birdie posters that have been posted all over the school mean the play is just around the corner and the theater department wants Lale Ridge to come enjoy the production.
"It's going to be good," Mattler said.
Bye Bye Birdie is a satirical play about the drafting of a rock and roll idol, Conrad Birdie, and the affect it has on the people in a small Ohio town.  The play is meant to poke fun at the way fans worship their idols.
Tickets for the play are $5/students, $10/adults, and MISD staff gets in free with ID. The show will have two performances on October 8th at 2 p.m. and 7 p.m., and one show on the 9th at 3 p.m.. Tickets will  only be sold at the door and the box office will open one hour before the show starts.