Homecoming Just Gets Bigger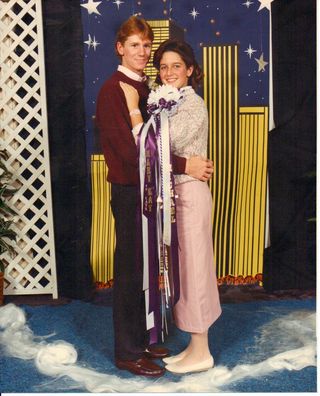 Everything is bigger in Texas, including the mums. Homecoming has always been a big deal in the south, and the mums appear to be growing exponentially in size year after year. Mums were the must-have item at southern homecomings in the 1980s and 90s, and it still hasn't changed. Lake Ridge students have either ordered their mums weeks ago or have gathered up groups of friends to compete to create the largest and most embellished mum. Teachers here at Lake Ridge have seen a dramatic change in mums since their time in high school. 
Leigh Ann Smith, Lake Ridge AP U.S. History teacher celebrated her high school homecoming in Louisiana. Smith recalls a time when mums were much simpler.
"We used real flowers. So it was a single mum and it was a similar backdrop of what they put the mums on now, but it was much smaller. Because it was a real mum you couldn't put things in the center of it. It may have had ten to fifteen little ribbons, and we would put a name on a ribbon or our school mascot. Usually, the only thing that hung from them were little plastic things like footballs and things like that. It didn't have bells and it didn't have lights. But it was lightweight enough that it could be pinned to your clothing and not rip your clothing," said Smith.
Nowadays, the homecoming proposals are not so simple either. Before, there was no such thing as a homecoming "proposal." People simply asked their friends and dates if they wanted to go and waited for a simple "yes" or "no" answer. At Lake Ridge, one would be hard-pressed to not see someone wielding a poster with a quirky phrase and a bouquet of Hot Cheetos to ask someone to the homecoming football game. In Texas during the late 90s, homecoming dates were the epitome of simplicity.
"My boyfriend had written me a note in class because we weren't texting yet. We didn't even have cell phones," said Lake Ridge World History and Women's History teacher, Heather Wilson. "He wrote me a note saying 'Hey, do you want to go to the dance Friday?' and I was like 'sure.' So we went and we watched the football game and then we went to the dance," said Wilson.
Students seemed to care more about the popularity of having a Homecoming Queen and King during the late twentieth century than they do now. While the tradition is still carried out, most people are not dying for a spot on the court. For most students in 2017, watching the homecoming court on the field is just as fun as being on the court. Still, football games are a homecoming tradition that will always be treasured no matter what year it is.
Rena Long, an AP World History teacher at Lake Ridge spent her high school homecoming in a little town in Kansas. Long finds that the football games were more fun for the students who were directly involved. Similar to Lake Ridge, Long's high school prized the events surrounding the game more than a dance.
"The big thing was whoever was up for Homecoming Queen and King. I was on the drill team. Of course, we performed at halftime for homecoming and my best friend was the Homecoming Queen. It was very exciting that she was Homecoming Queen. It was just a big deal socially, going to the game, everybody went," said Long.
At Lake Ridge most people tend to wear a more casual outfit to the game unless they're on the court, but it was not the same during Mrs. Smith's high school days. Semi-formal attire was adorned for the homecoming dance, but the football game was where people tended to dress up more. The court were the only ones who did not wear formal gowns, contrary to how students on the Lake Ridge homecoming court wear suits and ballgowns of their personal choice.
"They actually had to wear nice dresses and they wore hats, that was the big thing. It was like Kentucky Derby-type dress style. Homecoming Queen was always announced beforehand because she had to wear white," explained Smith.
Homecoming in the south looks to grow bigger and bigger each year. Students at Lake Ridge add more ribbons and baubles to their mums and take more steps to ask people to come with them to the game. However, the biggest part of the Lake Ridge homecoming is the great turnout and unwavering excitement leading up to the big day.