The Meaning Behind The Mum
Large flowers, large ribbons, and an even larger receipt. The tradition of creating mums and garters for homecoming is one that is valued no matter what the year is. Short for chrysanthemum, mums have developed in meaning and scale since their initial appearance of a simple flower pinned to a shirt.
Everything is bigger in Texas, and the homecoming traditions witnessed in Lake Ridge High School prove that. As students progress in their academic years, their mums or garters grow with them. Each year students add another flower to represent what grade they are in, however the more flowers means the more ribbons. As a senior, Bailey Alexander feels a greater amount of sentiment, as well as materials, in her mum in comparison to the previous years.
"Making mums has always been a tradition that me, my mom, and my grandma take part in for either my date or myself. As a senior, my mum means more to me because it represents all four years of my high school experience, and that I've finally made it," said Alexander.
Not only do mums hold memories and value to students, they also portray a message of school spirit. The collection of ribbons, decorations, and glitter show pride in Lake Ridge. The different ribbons usually have the school colors, mascot and an extra curricular activity if they take part in one.  Junior, Payton Adams, has created a mum each year of high school and believes that the main purpose is to represent both yourself, and your school.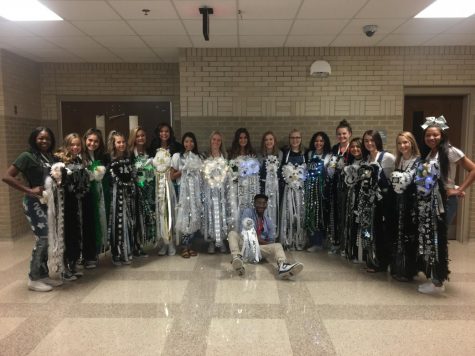 Ashton Blackwell
"Mums are made to show the school's spirit, and what clubs and organizations you're involved in, as well as who your date might be. Specifically for homecoming, mums bring the students together through their display of pride in our school," said Adams.
The creation of mums and garters, however, is not a new ritual. For decades in Texas, high schools have participated and progressed in this ongoing custom. World Geography teacher, Niria Garcia, has noticed the increased competition associated with mums and garters.
"Regarding size, mums have gotten what seems like twenty-times bigger since I was in high school. Between the students, there seems to be competitiveness of who can have the 'biggest' or 'best' mum, and it is socially considered cool to have the largest one," said Garcia.
From the hierarchy developed by having the "top mum," to the message sent of school pride through a variety of ribbon, the tradition of having a mum or garter is a phenomenon holding an abundance of value to students within Lake Ridge High School.