Hervey Brings New Perspective to Art
Art is about more than drawing a few lines and putting paint on paper.  It's about bringing your creation to life. Lake Ridge High School art teacher, Chamillia Hervey, incorporates this principle in her day to day life as she assists her students in developing their talent.
Art has always been an important part of Hervey's life. Having a career that focuses on art has always been something she wanted to do. She started off producing her creations when she was a kid but as time went by her passion towards art grew with her.
"I've always been into art, and as a kid I would do my own art on the side. Then in college, I worked as not only a college student who was pursuing art, but I participated in shows. So I consider myself a professional artist as well as a teacher," said Hervey.
Although she's always pursued an art career, becoming a teacher was not Hervey's first choice. She originally was interested in architecture, but soon realized that it was not the best way to put her ideas to use.
"I kind of naturally gravitated towards art. I was going to do architecture, but then I decided that it didn't really grasp the creative side of me. It was too structured, so I didn't have as much of an opportunity to be as creative. I decided to do studio art with concentration on K-12 teaching," said Hervey.
Hervey also hopes to enlarge the 3-D branch of art at Lake Ridge. She was excited to transfer to Lake Ridge so she could help start the ceramics department.
"The reason I didn't stay at Timberview is because they already kind of had their various positions established, so I was teaching all Art 1. With the experience I had, I knew I would be able to help the 3-D department grow here at Lake Ridge. I really wanted the opportunity to do what it is that I love to do," said Hervey.
Hervey is also able to make her classroom feel like a safe place for her students to be. Sophomore, Gracie Howard, says that Mrs. Hervey is a spontaneous teacher and she is ready to see what new things she will learn for the rest of the school year.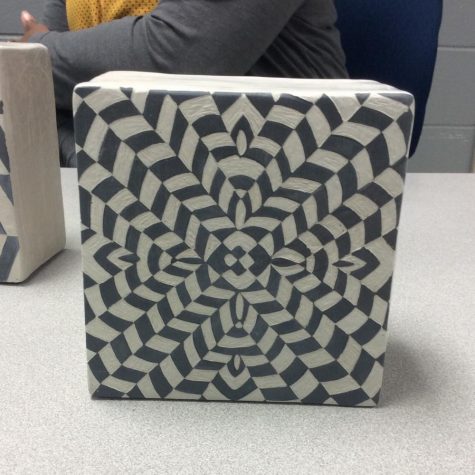 "The class doesn't feel like strangers, it feels like a family because we've all gotten to know each other. My teacher is just really nice and amazing and I feel like she's gonna teach me a lot this year," said Howard.
Gracie also says that Mrs. Hervey is different from other art teachers because she goes beyond merely teaching the basic principles of art.
"One thing she has definitely expressed to us is that a lot of teachers are just teachers who teach art; whereas she is an actual artist who teaches what she's learned. By learning from her, I feel like we have some insight of what it's really like. She makes it a very fun and easy-going enviornment."
Chamillia Hervey is a professional artist who hopes to bring her skills to Lake Ridge in order to help the program grow. Art brings out a side to her that she and her students enjoy. She says it allows her to view things in a "more organic way" rather than a strict and one-way road. Mrs. Hervey will help the 3-D art department be seen from a new perspective by enhancing the use of clay work with ceramics and sculpture.