New Strength for Swimmers
The Lake Ridge swim team has a new strength and conditioning coach this year who is tasked with the job of making the swimmers more efficient in and out of the pool. Dustin Rotan brings with him a broad range of experience that he is hoping will provide the swimmers with the ability to surpass their performances from last year.
For example, Rotan focusses on a strength and conditioning program called "dryland." Dryland is an outside of the pool workout that consists of weight lifting, running, and various other physical activities. Swimmers usually participate in dryland twice a week for for about 45 minutes. Rotan believes these workouts will benefit his athletes.
"Just like with all other sports we focus on a lot of technique and good movement patterns and getting some base line strength," said Rotan.
Rotan is confident in and believes this years swimmers have the abilities to take it to the next level in the pool.
"They've gotten a lot better, they all work really hard, and with anything, when you work hard and try you are going to get better at it," said Rotan.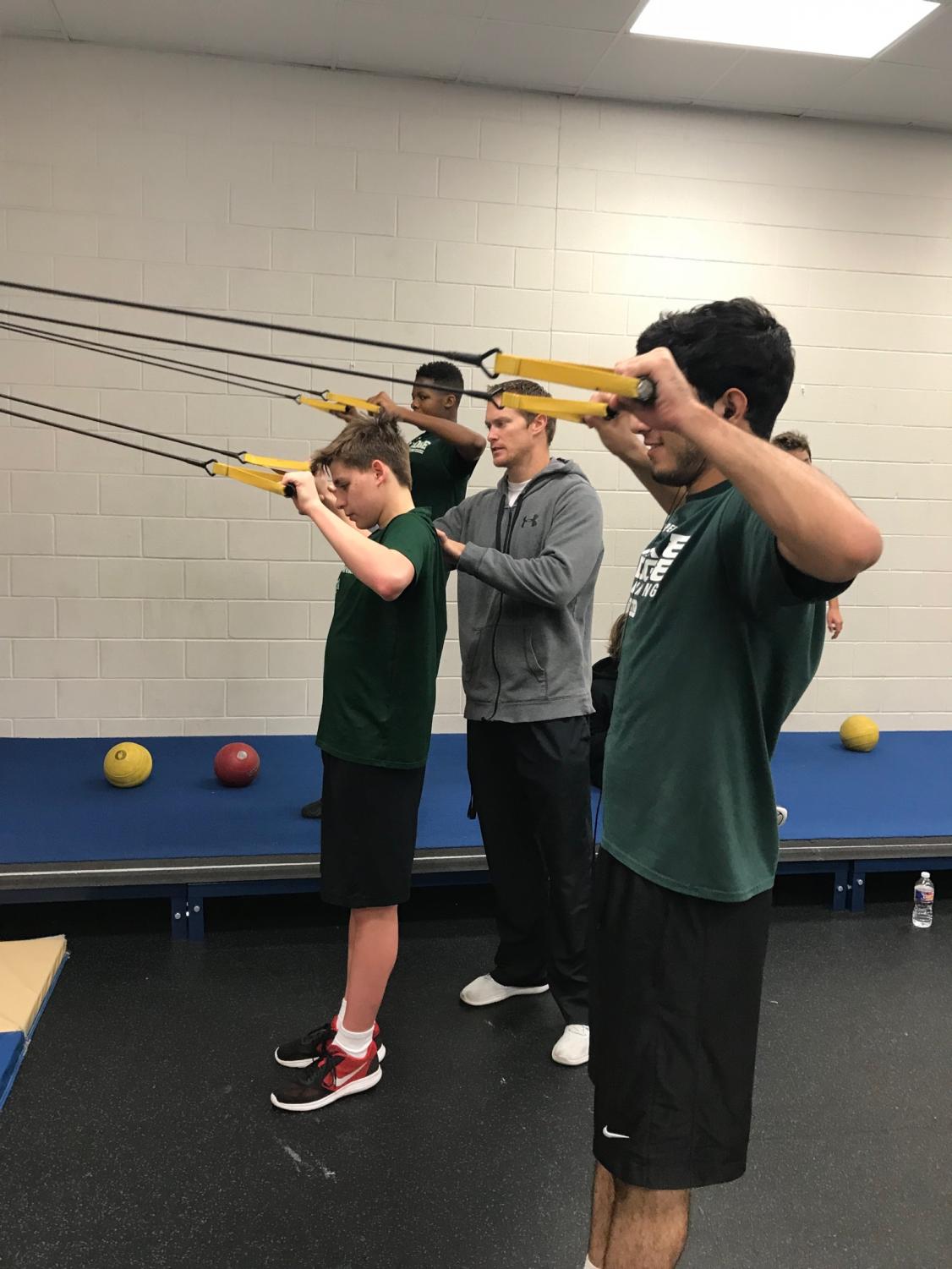 Coach Rotan has different workouts and stretches for the swimmers. Having a training coach that doesn't specialize in swim, has swimmers believing they will be even more successful this season. Kylie Sheppard, senior, can already feel the improvement and can't wait to see what's ahead for the season.
"I feel like I've improved but I won't know until later on in the season, but I am eager to find out," said Sheppard.
Although progress can take time to be seen, Sheppard feels a definite change in her body thanks to the Rotan's conditioning program.
"He's benefited me a lot, I can definitely feel the muscles we use, and I get more sore each week," said Sheppard.
Coach Blake Kahla, head swimming coach, is impressed with Rotan's dedication to his athletes being successful in the weight room. 
"I can definitely see them getting stronger, and I'm looking forward to seeing those results in the water throughout the season," said Kahla.
With guidance from Rotan, encouragement from Kahla, and determination from the swimmers this season will have the swim team stronger than they have ever been before.