Top Things To Do In Mansfield
Although Mansfield is a relatively small city, consisting of mainly restaurant chains and urgent cares, there are many hidden opportunities for fun within its borders. Whether you prefer an outdoor adventure, an artsy environment, or have a love for sports, there is something within this town that may appeal to you.
1. The Nature Park.
At Elmer W. Oliver Nature Park on Matlock Rd, there is a variety and vast selection of natural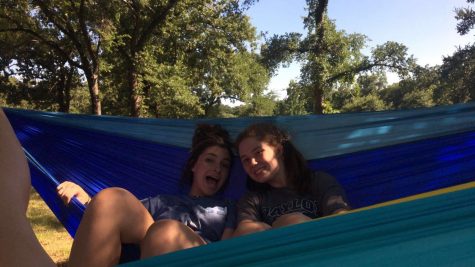 elements that provide a beautiful sight and environment for visitors. From fishing ponds, long trails, and a field of wildflowers to the selection of trees that are perfect for hammocking, the Nature park offers a environmentally-friendly and peaceful experience. Students such as sophomore, Megan Hinojosa, visit the park whenever they need something relaxing yet, active to do.
"I enjoy visiting the nature park, and hiking along the trails, because it allows me to get some exercise in with my friends, while viewing such pretty scenery," said Hinojosa.
2. Sand Volleyball.
Within Katherine Rose Memorial Park, there is a sand volleyball court that teens across Mansfield frequently use in the warmer weather. In the summers specifically, sand volleyball is where you will find high schools from all over the city enjoying the sport, in a fun outdoor environment. Sophomore, Ava Hoang, considers volleyball at Rose one of the best activities in the town, and appreciates its social opportunities.
"Sand volleyball at Rose Park is one of my favorite things to do. Especially in the summertime, everyone goes to play and you get to see a lot of other kids you know. Plus it is free for everyone," said Hoang.
3. Downtown Mansfield.
On the more historical side of Mansfield, there is a combination of boutiques, artwork, and small businesses that make up 'downtown'. For anyone who appreciates a rustic yet artsy atmosphere, or is fascinated by the history of this city, visiting downtown Mansfield would be a perfect experience. Caitlyn Valdez, sophomore, appreciates the art that can be found in downtown, and the perfect picture-spots that are found within it.
"I really love the different kinds of artwork they have displayed around downtown Mansfield, and that it's so close by. The artistic area combined with everything being in walking-distance, makes for great photography as well," said Valdez.
4. Camping.
On camping grounds surrounding Joe Pool Lake, there are various outdoor activities such as a beach area along the water, canoes and kayaks available to rent, and places to go fishing. The area consisting of dispersed tents and the sounds of nature is serene to visitors, and gives an element of the outdoors that many people don't get to experience in the suburbs. Dawson Kim, junior, has been camping in the park himself, and appreciates the quiet atmosphere he gets to be in with friends.
"Camping is definitely a great experience, especially if you are with the right people. It's enjoyable because you're with your group of friends, and away from all the other drama for however long you camp. It's a quiet sight, away from the lights and cars everywhere," said Kim.
5. D-BAT Batting Cages.
For the more athletic residents in Mansfield, D-Bat offers a fun and convenient practice opportunity to anyone with a love for baseball, or sports in general. Located on Sentry Dr., the facility is kid friendly yet elite in its training abilities. Varsity baseball player and junior, Michael Sterling, visits D-Bat often and always has a good experience while improving his skill in the game he loves.
"D-bat is a baseball facility where you can hit and work on defensive aspects of the game. The experience is thrilling, due to all the nice equipment, and I enjoy going because it allows me to get better as well as have a good time with friends," said Sterling.
Mansfield may be small, and slightly limited when it comes to a broad selection of hometown entertainment, but there are many scattered delights to visit and participate in.