Step Team at the National Championship
Two weeks ago the Lake Ridge steppers went to Daytona, Florida to compete. The Lake Ridge Dynasty Step Team and the Distinguished Gentlemen Step Team both placed this year in the National Stepping Association Championship. This title didn't come easy, practice and dedication is what led to the success of both teams.
This year, the boy's team has come a long way after a late start in the season, only competing in two competitions before nationals. That didn't stop them from trying their best, in fact, it's what drove them to train harder. Competing with so many other teams in Nationals, it was important that they distinguish themselves from the competition. Distinguished Gentlemen Coach, Joshua Boone, explains how they trained and what they did to be different from the competition.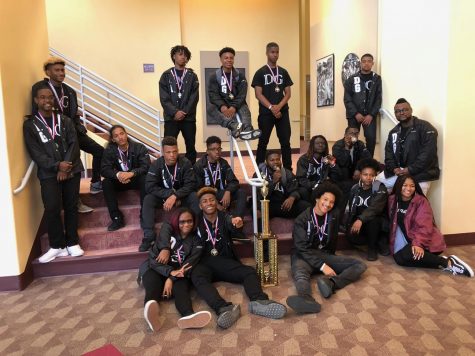 "Repetition. Drills, repetition, and exercise. I come up with the routines, I teach them, and they practice over and over again until it's perfect as possible, without any mistakes. Our hunger and our drive for success made us different. To build our brand, not just to be any regular local team, but to venture out into other leagues and to other states and become a traveling team eventually," said Boone.
Along with their drive, the steps are more than just a team. It's a family. Senior, Dillon Smith, is the Captain of the team and has been a stepper for over a year now. As captain, his job isn't only to manage the team, but he makes sure that the team is together and that they work well together. To Smith, it's all apart of being on the team.
"Being with everyone and the family. The relationships and the friends that were made. We win with them and we lose with them and that we are all together. That's the best part about being on the team," said Smith.
The Dynasty Step Team has placed first in every local competition they've been in this season and placed third in Nationals. They've even preformed live on NBC 5. Like the boy's team, being apart of Dynasty is more than just being apart of the team and competing. Sophomore, Kynnedi Brown, has been on the team for two years now and explains her close relationship with the rest of the team members.
"I'm very goofy so it's like when they're having a bad day, I'm there to make their day. My relationship with the other girls is really good, they're like my little sisters," said Brown.
With their dedication to not only the sport, but to each other, it's no wonder that both step teams have done so well this year. Even with a late start, the Distinguished Gentlemen have proved themselves as national champions. Regardless of their wins and losses, they will always have their brotherhood and sisterhood to lean on.