Nico-teens
You'd be hard pressed to go to a mall and not see somebody vaping or an ad selling e-cigarettes. With bright colors and flaunting flavors like mango, cherry, or strawberry, these ads don't officially target minors, though these devices certainly do get in the hands of young people. According to the National Institute on Drug Abuse, 37.3 percent of high school seniors across the country claim that they have used a vaping product in the past 12 months. So how and why are teens using nicotine products, even though they're illegal for minors to use?
Vaping, or "juuling" as many might call it, is marketed as an aid for quitting cigarette usage, even though, according to researchers at Yale University, e-cigarettes have not been proven to help in quitting regular cigarettes. In fact, it is believed that teens who use vaping devices have an increased risk of using regular cigarettes later in life.
E-cigarette advertisements have been under scrutiny recently by the Food and Drug Administration, due to the ads seemingly targeting teenagers, citing the loud, neon colors, high-tech design, and young models present in the advertisements. As evidence of an attempt to appeal to the teenage market, 7 in 10 of teenagers have been exposed to e-cigarette advertisements, and the FDA has been undergoing an investigation into one e-cigarette manufacturer, Juul, on whether they intended for their ads to appeal to minors.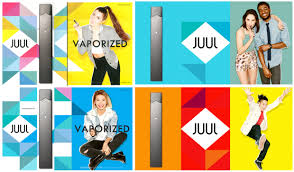 A possible effect of this targeted advertising is the development of a e-cigarette user's "aesthetic." Similar to the classic view of a classy, dignified user of cigarettes in 1950s ads, vape users might be seen as trendy or popular. According to Sophomore, Mitchell Martin, he classifies himself as a "social vaper," which means he only vapes in certain social settings to fit in to the crowd. Martin also admits he really doesn't know what's in his e-cigarette.
"It's not something I do very often, it's more of a social thing, like, if other people in a group are doing it. I do know people are really into it, and I don't get it. Some people use vapes with a ton of nicotine and they get addicted to it, but to me, it's just like inhaling flavored water, because I use 0% nicotine. I know what's in my vape to an extent, I know it's really unregulated. Of course, I'm not always getting what I think I'm getting, but for the most part I've been fine so far," said Martin.
According to the Mansfield ISD student code of conduct, usage of any tobacco or nicotine related product is prohibited on school grounds. According to Rob Romaguera, Assistant Principal at Lake Ridge High School, any student found to be in possession of cigarettes, e-cigarettes, hookahs, or other related devices will be punished.
"Essentially, e-cigarette usage in schools is not permitted and is a violation of the student code of conduct. Consequences start with 3 days of in-school suspension," said Romaguera.
Tetrahydrocannabinol (THC), the active ingredient in cannabis, can also sometimes be used in an e-cigarette device. According to the National Institute on Drug Abuse, 5.8% of teenage e-cigarette users say they use Marijuana in their vaping device. It is only legal in eight states. According to a district-wide email to Mansfield ISD, anyone found on campus in possession of an e-cigarette with THC or Cannabidoil (CBD) will be criminally prosecuted.
"Any student caught on school grounds with an e-cigarette that has been positively tested for CBD, a compound found in the early staged of the cannabis plant, will be charged with a class A misdemeanor. If the e-cigarette is positively tested for THC, the main active ingredient of cannabis, that student will be charged with a felony offense," said the Mansfield ISD Communications Department in an email sent to parents and guardians.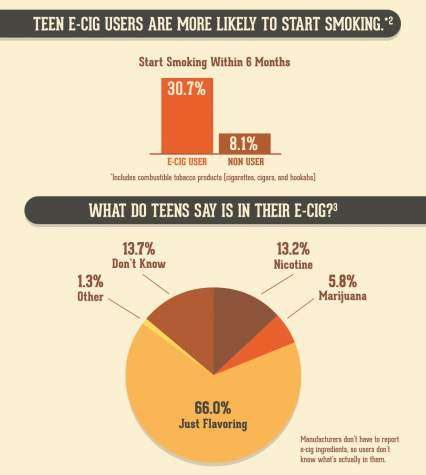 One marketing gimmick of e-cigarette companies is that it is a healthier alternative to cigarette smoke. However, e-cigarettes present many of the same problems, according to the European Network for Smoking and Tobacco Prevention, such as acute cough, increased heart rate, and decreased oxygen saturation. Tricia Johnson, Nurse at Lake Ridge, says that every tobacco product presents similar risks, such as carcinogens (cancer-causing agents) and damage to your respiratory system.
"As far as I'm aware, the long term and short term effects of e-cigarettes are similar to regular cigarettes. They try and market it as something safer, but research at this point is not showing that. What it is showing is that they're targeting young people with their advertising and their packaging in order to try and get young people to start. The potential long term effects of any type of tobacco would be lung damage and lung cancer," said Johnson.
Tobacco use continues to remain the biggest cause of preventable deaths in the United States, according to the CDC, and marijuana possession as well as tobacco possession stay at the 6th and 7th, respectfully, as the most common criminal offense of juveniles. If you or a loved one is suffering from an addiction to tobacco products, please contact 1-800-QUIT-NOW for free addiction coaching. In addition, please visit the CDC website for more help.