Senior's Farewell to Homecoming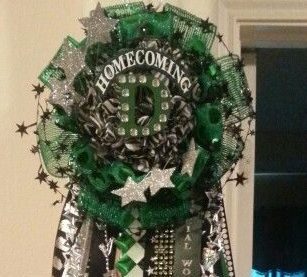 Senior year is all about living in the moment. With every day passing by, graduation gets closer and seniors are savoring their last times to participate in fun activities and events here at Lake Ridge. Their last homecoming week is one of the most bittersweet of these events. It will be their final mum and garter exchange, homecoming pep rally, and homecoming game.
Many seniors say that homecoming has always had a special place in their heart because it's such a fun time of year, so it will be hard to let something like this go. Senior, Anna Ho, says that this year's homecoming is very important to her. She wants to make the best of homecoming since it will be her final year.
"It's bittersweet because homecoming is something that I look forward to every year. It's also very important because I want it to be the most eventful as a senior," said Ho.
Mums and garters are another big part of tradition that seniors will be saying goodbye to. Since it is their last year of high school, seniors go big, bright, and extravagant for their senior mum and garter exchange. Some garters include things like bells, fairy lights, and even small pictures of their favorite memories throughout high school. Senior, Chloe Watson, is eager to participate in this tradition.
"I am going to make a garter for my friend. It's going to be Lake Ridge themed with dark green, white, and black ribbons with a braid or two, maybe some specialty ribbons which are ribbons that have the school name printed on it," said Watson.
Another tradition that makes homecoming week special is dress up days. Many students go all out on dress up days by making their own costumes from scratch, putting on face paint, and participating with their friends. Others just keep it simple but still participate each day of the week. Senior, Katelyn Murphy is looking forward to dressing up. 
"I do at least want to dress up and participate in any way that I can since this is my last homecoming. I want to make it memorable in a way," said Murphy.
The Homecoming football game will end the special week. Most look forward to the big game, which this year will be against Waxahachie. Hayden Fincher, senior, says that Lake Ridge is capable of beating the Indians. 
"I think Lake Ridge has a good chance at this game. Even though we've had our losing streak for a while, I think that we can really pull this off and come home with a win," said Fincher.
This upcoming homecoming week is going to be another chapter in the seniors farewell book. Homecoming has always been a time when students come together to celebrate Lake Ridge school spirit and carry out traditions that only come once a year. It's one of the most anticipated times, and soon to be a cherished memory for the senior class.