Christmas Lists Then vs Now
It's officially that time of year. The weather is getting colder, Christmas is music playing on the radio, and kids and teenagers give their parents complied with all the things they want for Christmas.
As kids, all they ever wanted for Christmas was the newest toys, and if receiving something other than toys, they would most likely complain. Teenagers, on the other hand, have grown out of toys. Teenagers prefer things like the newest electronics, clothes, and gift cards. Senior, Chloe Watson, said as a kid she would ask for Barbie dolls because she liked styling them and wanted to be a fashion designer at the time.
"I loved Barbie dolls as a kid. I liked how I could style their hair and change their clothes to any way I wanted. I wanted to be a fashion designer at the time so I thought getting Barbie dolls and making clothes for them could get me some experience in a way. I've grown out of Barbie dolls, but I loved getting them every year for Christmas," said Watson.
Another student who enjoyed receiving toys was sophomore, Daniel Akinola. Akinola would ask for Legos every year for Christmas because he was interested in becoming an architect. Akinola said he didn't want anything else other than Legos as a kid and he had so many Lego sets he had to sell a few.
"I really liked Legos as a kid because at that time I was interested in architecture. I liked how I could get all of these Lego sets and that I could build like a TIE Fighter from Star Wars or a small city with a big skyscraper. Legos were my childhood and that's all I ever wanted for Christmas. Eventually I had so many sets I had to sell a few, but I didn't mind because I could ask for more in the future," said Akinola with a small laugh.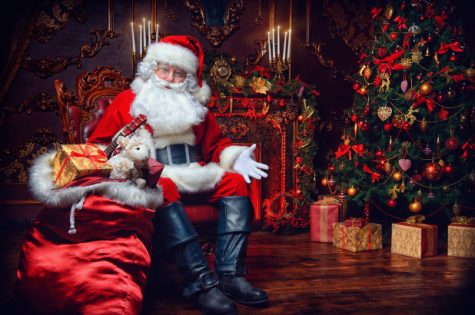 Now teenagers today are mainly focused on the newest electronics or simply just clothes and nothing else. Freshman, Trinity Martinez, said now that she's an older kid, she's not interested in toys anymore. Martinez is more than happy to receive clothes or gift cards for Christmas instead of toys.
"I definitely prefer clothes nowadays compared to toys. I've grown out of toys and I'm totally fine with just getting clothes for Christmas. My family is very understanding and they usually get me clothes or gift cards to my favorite stores like Target or Macy's. I do get nostalgic when my little cousins open their presents and it's just a bunch of toys because that's how I was and I'm happy for them obviously," said Martinez.
Another teen who doesn't mind the Christmas gifts she gets is, senior, Katelyn Murphy. Murphy says that even as a kid she didn't mind getting things like clothes or even hand-me-downs from her older cousins. She did ask for toys every year for Christmas, but besides that she would receive things she didn't ask for including scarves, shirts, and jeans. Murphy didn't mind the idea of clothes being unexpected gifts.
"Don't get me wrong I would ask for toys like Barbie dolls and dress up stuff but my family, mainly my older cousins, would get me things such as clothes for Christmas and they were hand-me-downs from when they were my age. I personally didn't mind because they got me something from the heart and I'm pretty sure they expected me to wear the clothes so I would," said Murphy.
Christmas lists are extremely different as people age. As kids get older, the lists tend to change in every way. From the length of the list itself, to not asking for toys anymore, and to the preference of gift cards or clothes. Christmas lists may have changed but Christmas, in general, is always a joyous time.