Check Out the new Library Safety Precautions
At the front of Lake Ridge is a room filled with books; rows upon rows of pages bundled together to tell a story. Students were once seen loitering around the tables, laptops opened and keyboards clicking. Some wandered around the shelves in search of a new read. This was once a normal occurrence, but in the school year of 2020, things have drastically changed. There will be no more casual visits to the library with the set of rules put in place to ensure the safety of students and staff at Lake Ridge, at least for the time being.
Patricia Becht, librarian, was given instruction by MISD to stay closed for the beginning of the year. While the library will be open in the upcoming months. The only students that the library is  available for are students with an off-period.
"Right now, the library is actually closed. We are only functioning to house students without a spot to go, and then rolling out books. We will be doing IDs in here, cleaning, and placing QR codes at every table so that we can map out where everyone sits," stated Becht.
Once the library does open for student use, there will be restrictions of when and for how long the library will be available. Browsing will not be allowed, and library hours will be synched to school hours, meaning no before and after use.
"I'll go to each English class and teach how to hold a book using Destiny, which is our catalogue service. We will deliver the books at this point, and then we will see how it goes throughout the year. It may change, we aren't sure yet. They have even taken away library extended hours this year," states Becht.
Since browsing is not an option, Lake Ridge has a few options on how to check out digital copies of the desired book.
"We're going to have a streaming book service, so there's digital books available and it will rotate. Because in the past a lot of kids haven't checked out e-books, we are doing a streaming service. We are doing Junior Library Guild and Tumblebooks," said Becht.
The books will then be cleaned and set aside upon re-arrival. Online streaming with the app Tumblebooks and the website Junior Library Guild that provide ebooks for check-out is the safer option for students, however it is not the only option.
"We will still do the three books at a time, and then we will quarantine books. We will have a Monday, Tuesday, Wednesday, Thursday, and Friday turn in, and wait several days to actually scan them. As far as the safety reasons for the books, they say COVID only survives on the surface for so many days, so that's why we will quarantine for 5 days before scanning them," says Becht.
The new rules will impact students that check out multiple books at once. Since the books will be held separate for 5 days in between checkouts, there will be delays on book availability.
"That will make a big difference with our graphic novels. Kids will check out sometimes eight a day, and they will come back and come back. Other people are reading a series, which means that series will be basically on hold for 5 days," stated Becht.
There are many rules, but Becht is expecting a possible change in the necessary restrictions put in place.
"I'm assuming there will be a re-evaluation around semester, and hopefully some privileges will grow before that semester mark," states Becht.
When the library re-opens, some of the other services will be limited for usage as well. In order to make it easier on students, teachers will be using less paper so that there will be less of a need for those services.
"So far, I think teachers have been asked to use less paper to accommodate both virtual and the need for touching things. We are not printing for students yet," says Becht.
Library aids will still be in the library to assist the librarians and the visiting students and staff, although their duties will not be the same as previous years.
"They won't be able to touch the books so much, and we don't have that need for technology support right now, but hopefully that will change when we all get more privileges," states Becht.
According to Becht, sophomore and freshman English classes will be the ones most affected by the changes in the library. Rebecca Wright, English I teacher, will have to change the way she engages her students in reading with the new arrangements.
"In a typical year, my kids spend one or two class periods each six weeks in the library. We are not going to be spending as much time in the library, we are going to be using more digital media, and we do have a brand new textbook platform which gives kids access to a virtual library. It's just training them to use new technology instead of paper books like we would normally do," stated Wright.
Wright does not expect for the change in atmosphere to be easy, and is prepared to lose student interest in reading.
"Any time you make it more complicated for kids to read, you're going to lose some people. The kids who love to read, read no matter what. They'll take advantage of some of the virtual things given, but the harder you make it the more kids you lose along the way," says Wright.
Wright's solution to the problem is to make reading as accessible as possible to give many opportunities to students to enjoy reading.
"The things that we have to be careful about are making sure that any barriers to them accessing those books and falling in love with reading are taken away, because it is more complicated than just picking up a book and reading. We are just trying to foster a love of reading in a kid that is beyond school work," said Wright.
Despite the disinterest she is expecting from some students, Wright is supportive of the new three services. She sees potential for a system that can be used not just for Lake Ridge, but for all of MISD.
"I definitely think that's a place that we could expand. I've worked in a district before that had a district wide initiative to have a huge virtual library. We do have virtual books available, but it would be really cool if we could have a more centralized system, for the entire district that gave more books," states Wright
As much as she supports the online aspects of reading, Wright sees importance in a physical library as a place that encourages reading and a learning community.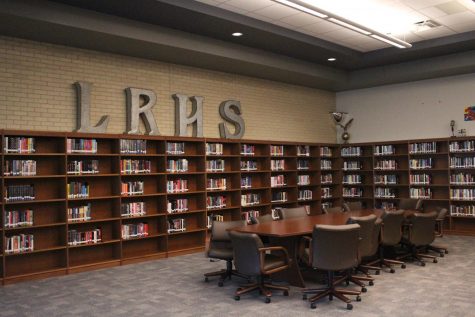 "Just being in the space I think is good for kids. Being surrounded by books, and just being this calm place where they can go. I know I had several students last year who liked to go to the library for lunch club and other things. The more you get kids in and around books and you normalize reading, the more they are going to do it," stated Wright.
Wright is disappointed that students will no longer be able to utilize the space as they have in the past, but understands that the changes are for the safety of everyone.
"It sucks that we can't do it this year especially because we lost bookshelves for social distancing. Kids aren't seeing as many books around them anymore. I think we are all making sacrifices to keep everyone safe, so I understand why it is necessary and will do my best to train kids to read no matter what," said Wright.
While English I classes have regularly used the library for book browsing and an introduction to reading, some students such as Angelique Mauldin hardly use the library at all. With an available access to technology at home and an interest in book stores over libraries, there isn't much the library has to offer students like her.
"I have used the library twice in high school, maybe three times. Twice was to print paper and once was to find a book for an independent reading project. I don't really use the school library, because I have a printer at home and I buy my own books," stated Mauldin.
Mauldin understands, however, that not everyone has that technology accessible from home. She has seen many of her peers use the library quite frequently to complete school work throughout previous years.
"I think about a third of the school, and I feel like that is being kind of generous. I know a lot of people that either don't have printers or they don't have functioning printers. A lot of times when we would have big projects, there would be at least 10 or 20 kids going in the libraries in the morning or after school to print out their projects," says Mauldin.
Even though many teachers will be making their assignments 100% online in order to reduce the needs for printing, Mauldin expects at least a few classes to continue asking their students to print out papers despite the library rules of no student printing.
"I feel like most things will be online, but for classes where we have to write a lot of essays like AP US History, English, and Government probably will have to type out papers and print them, because that is stuff that they have done in the past," said Mauldin
Mauldin is not an avid library user, but she understands the reasoning behind the new online services the library will be offering in replacement of in-person book browsing.
"I think that is good. Personally, if I was somebody to use the library, I would like to go in person to get a book. But I understand that in the time we are in right now with the virus and everything, it is better to have an app to download books online," states Mauldin.
Many things are changing at Lake ridge in order to ensure the safety of staff and students. The library will not be open as of now, but soon there will be student access to books through the online streaming services. There will also be ebooks separately available on the website Junior Library Guild as well as on the app, Tumblebooks. Librarian Becht will soon be visiting English classrooms to inform students on the proper way to use these new resources so that Lake Ridge students can keep reading and learning.