Notorious RBG
Born in Brooklyn, New York in 1933, Ruth Bader Ginsburg has always been hungry for knowledge. Her hunger for knowledge carried her through to Cornell University , where she excelled and graduated at the top of her class in 1954. Later, Ginsburg decided to attend the Harvard School of Law; however, after a few years, she decided to transfer to Columbia Law School where she graduated at the top of her class. Despite her academic success, Ginsburg faced severe gender-discrimination, but she persisted. It was her determination that eventually found her a career within the Supreme Court of the United States. Since her appointment by Bill Clinton in 1993, she has been a woman of change, known for her fights towards equality, in regards to race, gender, and much more. She earned respect from millions of people within the country and around the world for consistently being the voice of the minority and of the suppressed. Her strength and perseverance combined with her stances on issues such as feminism and equality gained her the name, the Notorious RBG.
Ruth Bader Ginsburg was a Supreme Court Justice from 1993 to 2020, during her time, she not only sought to influence change within the judiciary system, but also influenced change within day to day society. As her influence and role within her career became increasingly prominent, more people began to learn of who she was as a person and Supreme Court Justice. Her popularity grew into pop culture, where many artists, musicians, and authors started to use Justice Ginsburg as their muse. Memes, cartoons, parody songs, and much more were made about Ruth Bader Ginsburg. Art teacher, Stacy Bailey, admits that she wishes she could have been more knowledgeable on Justice Ginsburg when she was first nominated.
"I'm surprised that young kids know who she actually is. I would say in the last five years she has become a pop culture icon, but it should have been earlier. I wish I learned about her in high school, she's been a Supreme Court justice since the Clintons, so that means I spent my entire high school career not knowing about her when I could've. I didn't know who she was until I grew up, so I think social media and the internet has a big part in making her iconic. We didn't have the internet like we do now, so I wish I had learned about her more then," said Bailey.
Justice Ginsburg was famous in her own right; however, social media and the internet aided in growing this fame and gained her quite the young following, with many teenagers starting to look up to her. Justice Ginsburg acted as a role model to teenagers and people of all ages to speak on your beliefs; her advocacy for the minorities within America gained her respect from nearly everyone. Senior, Obehi Omoaghe, admits that while the Justice did not directly inspire her in daily life, her accomplishments are recognizable and reputable.
"RBG has never directly inspired me if I'm going to be honest. I applaud her for her work as being a female justice for the Supreme Court, and the many ways she aided and helped the LGBTQ+ community, along with women in America. I do recognize her accomplishments," said Omoaghe.
Justice Ginsburg's influence reaches far beyond this generation of teenagers, her influence has impacted even the adults in America.From the LGBTQ+ community to the emphasis on women and civil rights, her decisions and actions have directly impacted many people's lives. Bailey believes that Ginsburg has taken part of many things that made her life better.
"She fought for a woman's right to be able to sign a lease without a husband or father present. I've signed my own lease with my own name on it, so I could not have done without her. I know that she fought for a woman to be able to be able to have their own credit card under their own name and to make their own credit card, which I have. She was integral in the vote in 2015 that gave me the right to be married to my wife. Without her vote, it was a five to four vote so I may not be allowed to be married right now, so she's definitely affected me specifically," stated Bailey.
During her time at Harvard Law School, Justice Ginsburg was one of only nine women in a 500-person class. Even after moving to Columbia, Ginsburg was still among only a handful of women in her graduating class. She strived to inspire other women to challenge themselves. She gave many speeches when she was alive, discussing what she learned about becoming a successful woman in both the field of law and of politics. Junior, Mikaley Applewhite, was inspired by her in many ways.
"I wanted to consider being an astrophysics professor at a university. I knew most were male, which made me repress wanting to possibly fulfill this for a long time, due to the fact that many women experience discrimination throughout daily life, and wanting to be a professor would be nearly impossible. But due to Ginsburg and her experience working at Columbia being seen as 'inferior' by her male counterparts and fighting for the same benefits as the men, it made me rethink possibly being a professor alongside men," stated Applewhite.
Throughout her service, Justice Ginsburg was noted for her confidence when discussing difficult or controversial subject matters. As a result of her experience in law school, she made it her goal to get women to be able to do whatever job they wished to do. She also wanted women to have more freedom in their daily lives, like being able to own property or a bank account without the presence of a male figure. English teacher, Lisa Cole, might not have agreed with everything that Justice Ginsburg did, but she did look up to her as a woman in power.
"She's very intelligent, very hard working, she was also a devoted mother as well as a devoted wife. Those are all qualities that I aspire to be. She was brave which is what made her inspiring. I may not agree with every decision she has made, but honestly, she has earned my respect as a working woman," stated Cole.
Justice Ginsburg had also made her mark on politics as a judge on the Supreme Court for being the second woman to be on the board. Ginsburg involved herself in many cases that involved the treatment of women in the workplace and many other cases where discrimination and unfair treatment were present. AP Government teacher, Amanda Mitchell, feels like her place in the Court played a big role in the development of the United States for women.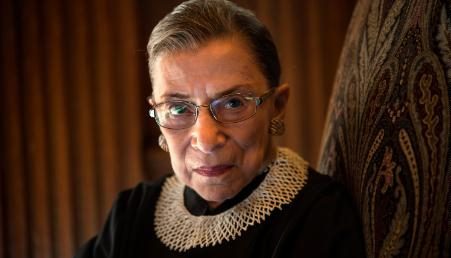 "Justice Ginsburg was a judicial activist for women's rights in particular. She made decisions in cases involving abortions, so she wanted the right to privacy for females. When the Supreme Court took cases like the issues of equal pay, she would specifically take it to look at. She played a huge impact on women's rights to privacy and the workplace," stated Mitchell.
As a Justice on the Supreme Court, Ruth Bader Ginsburg has brought many issues to light and did her best to make a positive impact on the lives these issues affected. As time went on, her popularity grew far beyond the world of law and politics, growing into social media and the internet, gaining her a wide audience and support from many. Her life will be remembered as one of great passion and strength. Ruth Bader Ginsburg passed away on September 18, 2020, due to complications caused by metastatic pancreatic cancer. Even through her fight with cancer, she still managed to fight for the lives of the underdog.