Shoulder to Shoulder: Overcrowding at Lake Ridge
With nearly 3,000 students enrolled in total, Lake Ridge is the most populated high school in Mansfield ISD. This influx of students has created challenges that the school has had to accommodate for. As more parents continue to enroll their students in Lake Ridge, the school's population will only grow.
According to Principal Brandon Johnson, the high school is technically overcrowded, due to the said capacity of 2,550. Johnson says that it is important to note that because of Ben Barber, which allows students to take classes off campus, the school never has the entire number of enrolled students on school grounds all day.
"If we didn't have Ben Barber, we would really be in a difficult position. But I would say now, moving from 2,600 to 2,700 students, we maxed out every classroom on our campus, and we have hit functional capacity."
To have a more effective way of controlling the student population, Johnson says that administration has implemented some changes in response to issues, such as the overcrowded lunches and hallways in the school.
"We've had to move to four lunches in order to ensure students have an opportunity to get lunch because we had a large number of students that were in the cafeteria under three lunches, so we spread the lunches out with four. We have shifted some of our bell schedule so that we have no bells, which helps with the traffic flow," Johnson said.
People typically consider the surrounding schools when moving to a new district. Johnson says that Lake Ridge is a well-rounded and exceptional school, which is why people lean more towards living in its zone.
"Lake Ridge is a school that's been successful in fine arts, extracurriculars, and academics. I'd like to believe that the majority of people who are thinking about moving into Mansfield ISD choose the Lake Ridge zone because we've been a high performing, exceptional school on all levels," Johnson said.
Johnson also says it is important to note the districts that surround Mansfield ISD are also becoming more populated, causing more homes to be built in the area.
"We have quite a bit of growth on this side of Mansfield. Because we are close to Cedar Hill and Grand Prairie, we're constantly getting people moving in and out because of our apartment complexes, as well as new homes going up," Johnson said.
Although it is the student body that is crowded, the teachers and staff of Lake Ridge are the ones who have to create new ways to properly address the issue. AP U.S. History teacher Ryan White says he has noticed that the packed hallways cause students to be late to class, especially with the shortened passing periods.
"I know that students have a very hard time getting to class in the reduced amount of time for passing periods. We see an increase in tardies, which means that if they're tardy, they are missing out on instruction," said White. "There's not a whole lot that I can do about it. I can stand in the hallways and help clear people out between passing periods. I just monitor them and make sure everybody is moving along at a good
pace and getting to where they need to be."
Additionally, White says he is considerate towards the students who have to walk far to reach their destination.
"As far as tardy students, I'm understanding and I try to wave it off. I don't take as many tardies as probably many teachers do because I know that it's a packed hallway and it's hard to get from the band hall all the way to the history department or the third floor on the other side of the building," said White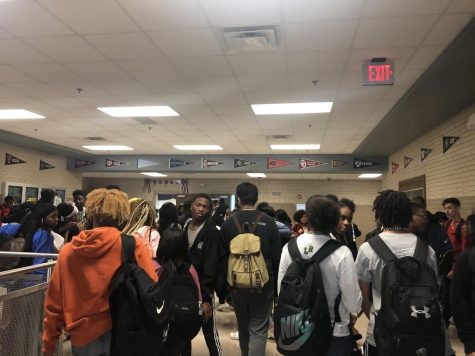 In order for instruction to run smoothly, teachers need what is necessary for the subject they teach. For example, a typical high school science classroom has significant appliances such as station sinks and an eye wash station. AP physics teacher Matt Gartman's classroom is actually an old storage room that is much smaller than a traditional classroom, and lacks the sink and wash stations a typical science classroom would have. Gartman says that because of this, he has less advantages than he would have if he was in an actual science room.
"There aren't enough actual science rooms for the number of science teachers. [Normal science rooms] have a lot more room, we can separate instruction and lab area, which is very beneficial. Overall, it's been a slight issue, but it's been one that I have been able to work with," said Gartman.
Although Gartman has been able to make adjustments, there are still some issues he has to work around.
"I don't have nearly storage space as I'm used to, so there's a lot more movement. I've had to send students to the hall a lot more often to work, which I don't really like doing. Also, I'm used to having two large whiteboards, and now I have two small ones. Anytime we're working on problems, I'm not able to leave problems on the board as long as I'd like to," Gartman said.
Gartman will also have to borrow another teacher's classroom to complete certain labs since his room does not have all the necessities.
"For teaching, there's only been minor hindrances, except when we have any sort of lab. Some of them aren't too much of an issue, others require a lot of room, and that's been problematic. When we get to thermodynamics, which deals with heat, we can't do that in this room, so I'll have to borrow another teacher's room for a couple days," Gartman said.
Being able to manage large groups of students is an essential skill for teachers to have. AP European History teacher, Brandon Austin, says he hasn't been negatively affected by the influx of students. In fact, Austin enjoys teaching large classes because it helps to keep him concentrated on doing his job.
"I like being crowded. This isn't my first school to be overcrowded. I've been in schools that had more kids and bigger rooms and we did okay. I volunteered to have over 40 kids in everyone of my classes because in a big class, I actually focus better. My largest class has 63 students and it's my academic decathlon class," said Austin.
To some teachers, having a large group of students to teach may be a bit challenging, yet, Austin says that teaching a class with over 30 students compels him to strengthen his teaching skills.
"When I have all these kids, I have to stay on top of everybody because if I lose control of 20 kids, that's one thing. If I lose control of 40 kids, that's a whole different thing. It makes me be a little more responsible and on-task," said Austin.
Overcrowding has been an issue in many public schools across the nation, and it is slowly becoming normalized. For now, as the issue continues, an effective way to deal with the situation is to implement new solutions to properly manage students.