Girls Basketball Wraps Up Season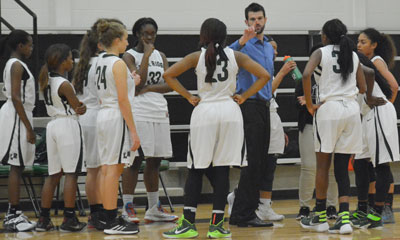 After an incredibly tough season and finishing the season with an 11-17 record. They had seven games that ended closer than five points, and the Lady Eagles basketball team finished 9-7 in district play this season.
The Lake Ridge Lady Eagles basketball team lost a hard fought battle in their season finale 46-44 in overtime to the Waxahachie Lady Indians. The Lady Eagles finished fifth in University Interscholastic League District 14-5A, and did not make the playoffs this season.
Coach Stephani Gray said, "We faced quite a bit of adversity this season with some injuries, but our kids fought through it and really came together as a team. They are a special bunch of kids with great character and although we didn't make the playoffs I am extremely proud of their effort."
The seniors on this team played their last basketball game in an Eagles uniform and their four years of dedication has been something we have all witnessed with incredible performances this season, and the past three years.
Coach Gray said, "Our seniors did a tremendous job of leading by example. They accepted their role, they inspired their teammates through their effort every day and they were great role models for our younger kids. They can be proud of the legacy they have left behind."