Eagles Sign On for Collegiate Athletics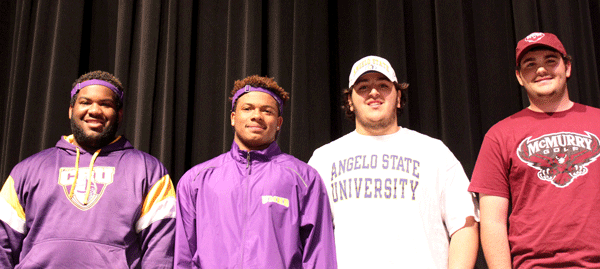 On, March 2nd, Lake Ridge Seniors Anthony Narro, Gerod McClain, Brendon Lowrance, and Bronsyn Smith all officially signed with their colleges. The group of signees consisted of three football players and one golfer; all who plan on continuing to participate in sports in college. The four student athletes were surrounded by teammates, family, friends, and peers at the signing. Brendan Lawerence committed to McMurry University, Anthony Narro committed to Angelo State University, while both Gerod McClain and Bronsyn Smith committed to University of Mary Hardin- Baylor.
Gerod McClain expressed his excitement for getting into Mary Hardin- Baylor by saying, "I'm excited about college, and I'm glad that I made it."
After telling us about his scholarship that he received from McMurry University, Brendon Lowrance told ENN that, "It feels good, I'm excited about next year."
If you're proud of our Eagles leave a comment below, and to read other stories on signees at Lake Ridge click here.